____________
Nigeria High commissioner hits out as arrivals from Nigeria into UK faces quarantine in effort to contain Omicron variant.
Nigerians facing a high battle of visiting or travelling between the country and United Kingdom with the latest banned due to Omicron Covid 19 variant.
Nigeria's addition into England's red list by Health Secretary weekend has been condemned as "travel apartheid" by Ambassador Sarafa Tunji Isola, the High Commissioner to the Court of St James (UK).
According to the announcement made Nigerians and other nations in the red list arriving in the UK have to spend 10 days in hotel paid by them of £2,285 quarantine and show two negative PCR test results which cost an average of £350, as part of measures that came into force today, Monday from 4am.
The press release and shared by The Government Department of Health and Care said 21 Omicron cases in England were found and are linked to Nigerian travellers.
The UK had recorded about 134 cases.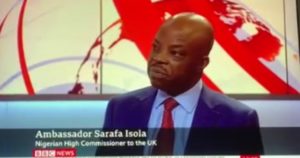 Speaking earlier, Ambassador Sarafa Tunji Isola agreed with António Guterres, the UN secretary general, who criticised imposed measures by various countries against African nations as "travel apartheid". Guterres added, "not only deeply unfair and punitive, they are ineffective".
"We have the instruments to have safe travel. Let's use those instruments to avoid this kind of, allow me to say, travel apartheid, which I think is unacceptable."
As monitored from BBC 4's show, Amb. Sarafa Tunji Isola told Today programme: "The reaction in Nigeria is that of travel apartheid. Because Nigeria is actually aligned with the position of the UN secretary general that the travel ban is apartheid, in the sense that we're not dealing with an endemic situation, we are dealing with a pandemic situation and what is expected is a global approach, not selective."
"[Omicron] is classified as a mild variant – no hospitalisations, no deaths. So the issue is quite different from the Delta variant. I mean, the position has to be taken based on scientific and empirical evidence. It is not a kind of panicky situation. We must have the facts." He concluded looking worried.
Responding on the word, Kit Malthiuse who is the The UK minister for Policing, said the phrase "travel apartheid" was "very unfortunate language".
"We understand the difficulties that's created by these travel restrictions, but we're trying to buy a little bit of time so that our scientists at Porton Down can work on the virus and assess how difficult it's going to be for us to cope with as a country," he replied on the show.
—————————————————————————————————————————————
Your help to our media platform will support the delivery of the independent journalism and broadcast the world needs. Support us by making any contribution. Your donation and support allows us to be completely focus, deeply investigative and independent. It also affords us the opportunity to produce more programmes online which is a platform universally utilised.
Thank you.
Please click link to make – DONATION