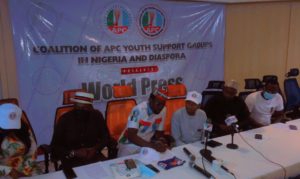 Following the recent crisis rocking the All progressive congress,the Coalition of the progressive youth group in Nigeria and diaspora debunks the claim of having different fraction or leadership in the all progressive congress.
While addressing Journalist in a press conference in Abuja,the leader of the coalition,Dr.Abdullahi Isyaku said the party has only one caretaker in place which was unanimously appointed by the National executive council (NEC)of the party.
He also alledged that the newly paraded CECPC chairman, Mustapha Audu of progressive youth movement is sponsored and their membership are unknown to the Party,hence the party loyalist completely disassociate from them and cannot account for their activities or join issues with them.
He however called on the Chairman Caretaker Extraordinary Convention Committee, Mai MALA Buni, to investigate the root cause and personalities involved in the unconstitutional power grabbing in the party.
—————————————————————————————————————————————
Your help to our media platform will support the delivery of the independent journalism and broadcast the world needs. Support us by making any contribution. Your donation and support allows us to be completely focus, deeply investigative and independent. It also affords us the opportunity to produce more programmes online which is a platform universally utilised.
Thank you.
Please click link to make – DONATION