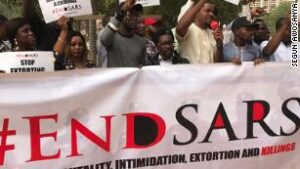 British Nigerians living in the UK have protested in London against violence at the anti-police brutality protesters in Lagos Nigeria.
According to Ben Television UK correspondent Funke Kubola who monitored the peaceful protest at London Trafalgar square, Most Nigerians in diaspora that participated in the protest expressed their anger, sadness and disappointment at Nigeria s federal government led by President Mohammed Buhari for allowing the peaceful EndSARS protest to degenerated to a violence level which has claimed lives of unarmed protesting youths.
While acknowledging the proactiveness of Governor Sanwo-Olu of Lagos state at the initial stages of the peaceful EndSARS protest, they blamed President Buhari for his failure to have personally addressed their demands and doused their agitation.
The Nigerians and lagosians based in London used the occasion to call on all protesters to allow peace not to jeopardize their demands.
Earlier in a television interview, Governor of Lagos state , Babajide Sanwo-Olu emphasized he will continue to apologize and calls for peace .
Meanwhile, Nigeria President Mohamadu Buhari is to address the Nigeria Nation on State of the Nation.at 7pm Nigeria time .
—————————————————————————————————————————————
Your help to our media platform will support the delivery of the independent journalism and broadcast the world needs. Support us by making any contribution. Your donation and support allows us to be completely focus, deeply investigative and independent. It also affords us the opportunity to produce more programmes online which is a platform universally utilised.
Thank you.
Please click link to make – DONATION