DELTA 2023: "Gang up against me 'll fail, nobody can dump me", former Minister talks tough
The cap fits you- Onosohrue, Akpososo, Emegbu, Austin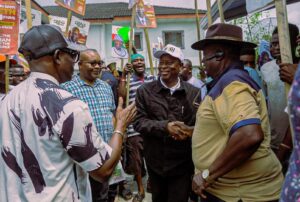 Leading governorship aspirant in Delta State, Olorogun Barr. Kenneth Gbagi, has reacted to rumours making the rounds that the Delta Central 2023 (DC-23) lobby group has concluded plans to dump him during the second phase of screening to pick three aspirants from Urhobo ahead of the 2023 governorship election.
There was speculation the Peoples' Democratic Party ,PDP, may not give him the party's ticket on grounds that he (Gbagi) might be uncontrollable, but he said no matter the gang up, he would become the governor of the state.
Speaking, Friday, on his consultative visit to PDP Elders and Leaders Forum in Udu Local Government Area of the state, the former Minister of State for Education, declared: "Nobody can dump me".
He noted that as a criminologist, he was aware of clandestine moves by certain persons in the party and Delta Central senatorial district plotting to stop his emergence as the standard bearer of the party in the forthcoming election.
"I will not keep quiet, at the appropriate time, I will publish their names, accounts and what they have done.
"A lot of them have spoken to me, saying let us not go public, but if someone wants to govern you, do not make the mistake, if you allow them to govern your house, you are the one who put fire in your house.
"There is a lot of deceit, daylight and midnight meetings going on. They say in their heart let us wait and push him small , when we get to the place, we will dump him and we will do what we want to do. You are saying you want to dump me, you cannot dump me" Gbagi declared.
Meanwhile, in what seemed like an endorsement, some who-is-who in Udu politics threw their weight behind the gubernatorial aspiration of Olorogun Gbagi.
In his endorsement, Bishop Duke Akpososo, said: "The truth must be said. We are talking to people across, we have discussed in private quarters about the aspirants. All things being equal, the only person we see who has the kind of capacity and force to match the current that is coming and the person that can stand that current is Gbagi himself, that is the truth".
Bishop Akpososo, who encouraged him to stand firm and said his visit to the Udu PDP Elders and Leaders Forum was strategic, added: "You are in the right place. You will be in Government House come 2023".
He also commended his philanthropic gestures to God's servants across the state.
Also speaking, another Udu leader, Chief Matthew Emegbu, noted: "The way you have spoken if that is the way we are going to drop our votes during the election, we have dropped it for you. You have won our minds. We need people like you and we are expecting you, God bless you".
Yet another respondent, Ugboma Austin, declared: "Who the cap fits, let him wear it. His Excellency to be in 2023, the cap fits you. From the speech so far, I have discovered three things and three Cs, Character, Competence and Courage.
"You have been able to demonstrate that in this place. The speech is an eye opener to everyone of us. Gbagi is in the right course. Sir, we are ready to support you. The elders, leaders and the youths, we are solidly behind you, come 2023, you will sit on that seat".
In his prayers, Chief Eddie Onosohrue, said the aroma that is good for the nose should be good to the mouth. There is time for everything, let God make this time your own".
—————————————————————————————————————————————
Your help to our media platform will support the delivery of the independent journalism and broadcast the world needs. Support us by making any contribution. Your donation and support allows us to be completely focus, deeply investigative and independent. It also affords us the opportunity to produce more programmes online which is a platform universally utilised.
Thank you.
Please click link to make – DONATION