The Commonwealth Heads of Government Meeting (CHOGM) 2022 ends in Rwanda with Samoa confirmed as the host and incoming Chair-in-Office of the 2024 CHOGM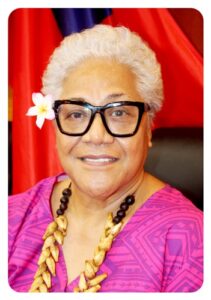 The Prime Minister of Samoa, Hon. Fiame Naomi Mataafa arrived in Kigali, Rwanda this week to attend the Commonwealth Heads of Government Meeting (CHOGM).
CHOGM brings together Leaders and delegations from 54 commonwealth nations from across Africa, Asia, the Caribbean, the Pacific and Europe. Leaders of Commonwealth countries meet every two years, hosted by different member countries on a rotating basis since 1971. The last meeting was hosted by the United Kingdom in 2018, and this is the first meeting since the COVID-19 pandemic delayed the meeting for two years. CHOGM aims to reinforce multilateral cooperation, explore new opportunities, and tackle common challenges for the well-being of future generations. The theme of CHOGM 2022 is 'Delivering a Common Future: Connecting, Innovating, Transforming.'
The official opening of the 26th Commonwealth Heads of Government Meeting (CHOGM), was held at the Kigali Conference Centre, on Friday 24th June and heard remarks from HRH The Prince of Wales, the new Chair-In-Office and President of Rwanda, H.E. Paul Kagame, the Commonwealth Secretary-General, the Rt Hon Patricia Scotland QC, and outgoing Chair-In-Office, Prime Minister of the United Kingdom, the Rt Hon Boris Johnson MP.
The week-long gathering included Ministerial Meetings, Forums, side events and other activities. The official opening of CHOGM took place on Friday 24 June, followed by the main high-level meetings of Heads of Government, which ended with a retreat on Saturday 25 June.
The Leaders discussed important matters to the Commonwealth family of nations such as Democracy, Peace, and Governance; Sustainable and Inclusive Development; Post-COVID-19 recovery, climate crisis, new members and the Secretary General of the Commonwealth Secretariat.  On Saturday 25th during the Leaders Retreat, Samoa was confirmed as the next host for the CHOGM in 2024. The Honourable Prime Minister was accompanied by Mrs Peseta Noumea Simi, CEO Ministry of Foreign Affairs and Trade, Agafili Shem Leo, CEO Ministry of Prime Minister and Cabinet, Francella Strickland, Ambassador of Samoa to Belgium and and Mr Vani Vai, ADC.
Samoa's hosting of the 2024 CHOGM will be the first time a Pacific member country will host CHOGM.
Ministry of Foreign Affairs
—————————————————————————————————————————————
Your help to our media platform will support the delivery of the independent journalism and broadcast the world needs. Support us by making any contribution. Your donation and support allows us to be completely focus, deeply investigative and independent. It also affords us the opportunity to produce more programmes online which is a platform universally utilised.
Thank you.
Please click link to make – DONATION