The Taraba state ruling party, the Peoples Democratic Party (PDP) has raised the alarm and cried out over a plot and planned situation by the Independent National Electoral Commission (INEC) to change the State's 2023 governoship election result.
The INEC has been collating and announcing the results since yesterday Sunday with few breaks in betweens.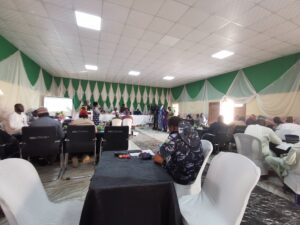 Hon. Andeta'rang Iramea who is the Publicity Secretary of the party,  raised the alarm and wondered why the commission is has not concluded the announcement bearing in mind having all the details from all the 16 local government areas in state even as other international observers queried same.
Hon. Iramae, challenges the motives behind holding back the results by the Resident Electoral Commissioner (REC), Alhaji Umar Muktar Gajiram and the Returning Officer, Prof. Muhammed Ahmed Abdulazeez.
It has been suggested that due to the presented religious and Ethnic affiliation of Prof. Sank Yahaya of the New Nigerian Peoples Party's (NNPP) the result should be changed to lift the votes towards that of which the PDP has so far garnered.
The public through the IRev centre already have the possible results and by wide margin to PDP's claim of victory.
Already the delay is causing various agitations and can be related to Monday's incidence between the soldiers and the police.
"Any attempt to tamper with the result will be resisted. Tampering with the results at this stage is dangerous, the outcomes have been formally collated and received at the INEC Headquarters in Taraba.
"We are here to defend our vote so INEC should not delay to declare the result because PDP candidate, Col. Agbu Kefas, won the election." added Iramea
—————————————————————————————————————————————
Your help to our media platform will support the delivery of the independent journalism and broadcast the world needs. Support us by making any contribution. Your donation and support allows us to be completely focus, deeply investigative and independent. It also affords us the opportunity to produce more programmes online which is a platform universally utilised.
Thank you.
Please click link to make – DONATION