Founder of Europe's first Ethnic media platform popularly known as BEN TELEVISION, Mentoring Cmdt Alistair Soyode has called for more youths to be more involved in political process if they really want a positive change in African political space.
Mentoring Cmdt Alistair Soyode who made the call at the Phoenix award ceremony held in Accra Ghana said until youths begin to take up leadership positions and political appointments, things would remain the same.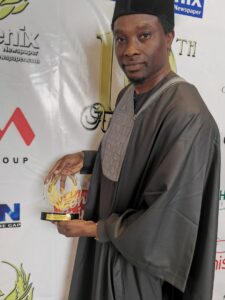 It is on record that the only Nigerian recognised who also received an award in this year's event is the former Chairman of Nigerians in Diaspora Organisation (NIDO), and initiator of Nigeria Book of Records.
Mentoring Cmdt Alistair for more than two decades has used his media platform to bridge the gaps within our nationalities. It is well noted that his BEN Television opened the doors to many international celebrities known now, exposed diverging and challenging issues facing Africa and her diaspora as well as providing the platform for the mainstream communities to engage the diversity of Europe and her people.
His singular action brought Africa and her people the positives reactions and opportunities to the world's attention.
For the first time in Africa, Europe's based Black and mainstream newspaper, the Phoenix in association with Nishkam, a Sikh faith-led organisation working for the wellbeing of all communities, by developing a dynamic civic agenda focusing on peace and reconciliation brought the event to the continent.
*Phoenix*, which is one of the leading Print media brought more than 100 CEOs and Faith based organisations to Ghana.
Phoenix Award is a powerful voice for everyone living in the UK and overseas to be recognised for their contributions and services to our communities. It use both the print medium, online access, and broadcast to highlight a wide range on fields such as humanity, leadership, cultural icons, education, music, business, sport and lifestyles.
In its quest to see Africa grow positively, decided to take the 10th Anniversary of the media and community award to Accra, Ghana for 2022.
The sole aim and mission is to showcase Africa, create discovering paths for others, enhancing & supporting new ideas with the vision of spreading the message worldwide through the participation of diverse people, leaders and businesses as supported by Nishkam Organisation.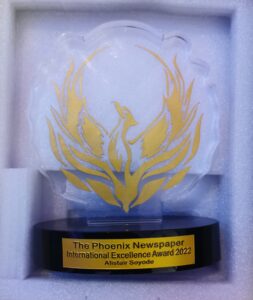 The event and awards took place at the 5-star Movenpick Hotel, Accra in the weekend of Nigeria's 62nd Independence.
End
—————————————————————————————————————————————
Your help to our media platform will support the delivery of the independent journalism and broadcast the world needs. Support us by making any contribution. Your donation and support allows us to be completely focus, deeply investigative and independent. It also affords us the opportunity to produce more programmes online which is a platform universally utilised.
Thank you.
Please click link to make – DONATION