Nigerian New Ambassador to Vatican, the Holy See's touching gesture to the Pope
The New Nigerian Ambassador to the Vatican Ambassador Paul ADIKWU meets the Pope as he presents his credential.
With this moving gesture of respect, the new Nigerian ambassador to the Holy See, HE Paul Oga Adikwu, presented his diplomatic credentials to Pope Francis.
Among his entourage are his family members led by his wife.
As first official meeting, the new Nigerian ambassador presented the Pope a set of chalices as a gift.
The Papal Pope who's happy with the item, said, "Thank you very much, that's very kind of you, thank you very much".
In return Pope Francis gave him copies of the significant texts of his pontificate.
"I shall pass it down to my people back in Nigeria" was His Excellency's remarks on appreciation. 
He also commented on the power of family to support the new ambassador, and gave them a blessing.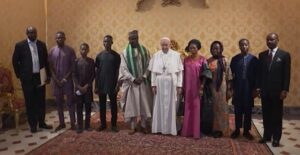 "The strength of the family, to lead the ambassador's work forward", prayed the Pope. 
Nigeria is a country of more than 200 millions people and nearly half of the population are Christian,
Ambassador Paul ADIKWU is an academician from the Middle Belt of the country.
—————————————————————————————————————————————
Your help to our media platform will support the delivery of the independent journalism and broadcast the world needs. Support us by making any contribution. Your donation and support allows us to be completely focus, deeply investigative and independent. It also affords us the opportunity to produce more programmes online which is a platform universally utilised.
Thank you.
Please click link to make – DONATION