Nigerian High Commission in Zambia commends Amb. Jonathan for exemplary patriotism …
The office of the Nigerian High Commission, Lusaka – Zambia has highly commended Amb. (Dr) Jonathan Ojadah, through an official letter signed by the High Commissioner, His Excellency, Amb. Omniyi N. Eze for displaying an exemplary patriotism and passion for good governance most especially on his mission to Zambia where he participated as one of the foreign Election observers in the just concluded 2021 Presidential Election as accredited by Zambia Electoral Commission.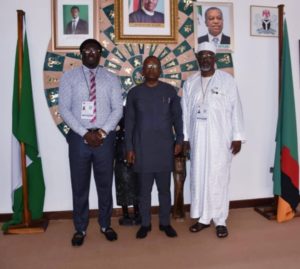 In the Official Letter, The High Commissioner gave Amb. Jonathan a lot of accolades.
The letter states…
"We are pleased with your activities and we are delighted to encourage you to do more.  It is with Patriotic Nigerians like you that makes our mission achieve remarkable success. Congratulations for your hard work and accept the assurances of the Nigerian High Commission, Zambia."
Following his remarkable wealth of experience and vast network of Investors accross the globe, Amb. Jonathan Ojadah has also been appointed as Special Envoy to Zambia on Economic Development & Investment Cooperation by Zambia's top Indigenous company, National Sugar Corporation Ltd for 16 Smart city development which is in collaboration with the Zambia Development agency (ZDA).
Following news report by Zambian based Television Stations, Diamond TV and Mubi TV (Prime Time News) through interview granted by Amb. Jonathan, it is gathered that investors will be wooed into Zambia for various capital and Infrastructural development projects which includes world class International Train and airport terminals which Zambia will be the hub to network various destinations accross the globe.
Lets Join the rest of the World to commemorate the International Day for Peace
PAN AFRICAN PEACE SUMMIT & INTERNATIONAL HONORS
Date : Tues. 21st – Sat Sept. 24th , 2021
Location: Nairobi – Kenya
Featuring
👉🏿 Honorary Doctorate Award & SDG Peace Ambassador & Good Goverance Award.
👉🏿 PeaceKeepers All white Dinner Party
– Sat. 24th September, 2021
—————————————————————————————————————————————
Your help to our media platform will support the delivery of the independent journalism and broadcast the world needs. Support us by making any contribution. Your donation and support allows us to be completely focus, deeply investigative and independent. It also affords us the opportunity to produce more programmes online which is a platform universally utilised.
Thank you.
Please click link to make – DONATION