THE HIGH COMMISSIONER OF NIGERIA TO THE UNITED KINGDOM, HIS EXCELLENCY, SARAFA TUNJI ISOLA
AT THE LUNCH HOSTED BY THE BRITISH EXPERTISE INTERNATIONAL AT 23 GRAFTON STREET, MAYFAIR, LONDON ON TUESDAY, 13 OCTOBER 2021 AT 1:00PM
THEME:
THE KEY SECTORS THAT UK COMPANIES CAN SUPPORT NIGERIA'S ECONOMIC DEVELOPMENT STRATEGY AND HOW THE UK COMPANIES CAN BETTER LEVERAGE THESE OPPORTUNITIES
PROTOCOLS
It is a great pleasure and privilege to be with you this afternoon and to be given the opportunity to share perspectives on the key sectors that UK companies can support Nigeria's economic development strategy and how these companies can better leverage such opportunities. I wish to commend British Expertise International for hosting all of us to this interactive lunch, especially at this crucial moment of post Brexit and Covid pandemic that Nigeria and United Kingdom are working to renew their commitments and to strengthen bilateral economic relations. We believe that period of both developments will offer a new vista for our two countries to expand the existing trade frameworks which would in turn lead to improvement in the flow of goods and services, particularly in export of solid minerals, agricultural produce commodities and skilled manpower.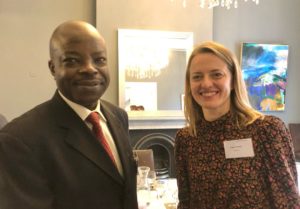 Nigeria's opportunities are established on a number of strategic factor endowments: our sprawling arable land, our gateway position, not just for West Africa but for other parts of the African continent. Our enormous natural and human resources with an estimated population of 200 million is Africa's largest. We currently account for the 7th largest population in the world, and by statistical projection set to become the 3rd most populous country by 2050. It also has the largest economy in Africa.
It is recalled that since its inception, President Buhari's administration has been anchored on three basic tenets which include; tackling corruption, improving security and rebuilding the economy. While significant progress has been made in the fight against corruption, the Government continues to make steady progress in its resolve to defend Nigeria's territorial integrity, interest, wellbeing of the citizenry and strengthening international peace and security.
Steady progress has also been recorded in conflict resolution and peacebuilding, especially in north-eastern region of Nigeria where the capacity of the Boko Haram insurgents to wreak havoc has been significantly decimated, paving the way for some of the internally displaced persons (IDPs) to voluntarily return to their homes. Also, multitudes of those forcefully conscripted and hypnotized to fight against their country have surrendered and are still surrendering. The Government along with CSO's have embarked on rehabilitation of the sober insurgents.
Our Government has been working energetically to create an enabling environment to stimulate and sustain domestic investment, and attract more Foreign Direct Investment (FDI) to all sectors of our economy, especially in agriculture, mining, infrastructure and trade. This is based upon Government diversification policy to non-oil sectors, with the focus on agriculture and agro processing, food security, real estate, renewable energy particularly solar and wind power, infrastructure, manufacturing and digital economy.
Consequently, our Government has put in place various policy strategies, such as the Ease of Doing Business Reforms designed to dismantle specific bottlenecks around business, property registration, access to finance, payment of taxes, importing and exporting goods, immigration and exchange controls. Other measures introduced by the Government to ease doing business in Nigeria and attract investment opportunities to the country include:
The National Policy on Micro, Small and Medium Enterprises (MSMEs): The objective of this, is to raise broad-based awareness and improve access to financial support for Small and Medium Scale Businesses, thereby enabling better access to credit;
The Nigerians in Diaspora Commission: This aims to bring together all Nigerians in the Diaspora and create a one stop agency that caters for their affairs as well as attract Nigerians willing to contribute to the Nigerian economy;
The One Stop Investment Centre (OSIC): This is a mechanism that brings together all relevant Government agencies under a single platform to help provide efficient, open, transparent and accountable services to investors, thereby simplifying the process of business registration; and
The Nigeria Industrial Revolution Plan (NIRP): which is aimed to help provide guidelines for investment opportunities in Nigeria as well as serve as a platform to guide foreign investors on the sectors to invest.
On account of these reforms, the World Bank in 2017 recognized Nigeria as one of the top ten (10) most improved economies in the world. We continue to build on this to get even better.
The Industry, Trade and Investment Section of the High Commission has been revitalized and repositioned to respond swiftly to inquiries on investment opportunities in Nigeria. Nigeria High Commission in London has also been positioned to facilitate a seamless entry for investors and investment through a responsive and hands on approach. It is also mindful of the need for both British authorities and investors to reconsider trade relations following Brexit and post Covid-19 realities. The section offers valuable advisory services to a number of enquiries and provides relevant guidelines to investors. In addition, it utilizes every opportunity to highlight the numerous potentials in Nigeria while emphasizing the Government's policy goal of building the Nigeria economy through entrepreneurial and industrialization.
While enjoining you to have fruitful deliberations over lunch, I want to reassure you all that Nigeria is secure, ready and open to genuine investors as it offers most returns on investment on the African continent. It is my fervent hope that at the end of this event, a significant number of persons here present would consider investing in Nigeria.
I thank you one and all for listening.
—————————————————————————————————————————————
Your help to our media platform will support the delivery of the independent journalism and broadcast the world needs. Support us by making any contribution. Your donation and support allows us to be completely focus, deeply investigative and independent. It also affords us the opportunity to produce more programmes online which is a platform universally utilised.
Thank you.
Please click link to make – DONATION