The Independent National Electoral Commission (INEC) has declared Ireti Kingibe of the Labour Party (LP) as the winner of the Federal Capital Territory (FCT) Senatorial seat after delaying the announcement.
Prof. Sanni Saka. INEC Returning Officer, announced the result on Tuesday in Abuja.
Prof. Saka said that Ms Ireti Kingibe scored 202,175 votes to emerge winner, defeating one of the longest serving member of NASS Senator Philip Aduda of the Peoples Democratic Party (PDP) who got 100,544 votes, while Angulu Dobi of the All Progressives Congress (APC) gathered 78,905 votes.
"I Prof. Sanni Saka thereby certifies that I am the Returning Officer for the 2023 FCT Senatorial district election held on Feb. 25.
"The election was contested and the candidates received the votes as announced.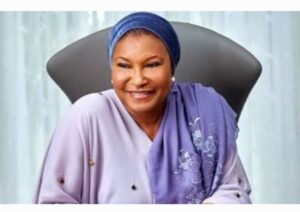 "That Ireti Kingibe having satisfied the requirement of the law has been declared the winner," Prof. Saka said.
There was a mild delay due to Bwari result.
In her acceptance speech, fully below, the elected senator and the first female said, she is for all Nigerians.
ACCEPTANCE SPEECH 2023 CENERAL ELECTION – ELECTED REPRESENTATIVE FOR THE FCT SENATORIAL DISTRICT (NASS). 
Greeting
With deep gratitude and humility. I accept this mantle of leadeship and service that Labour Party and the esteemed people of Abuja have bestowed on me by electing me as the Senator representing the Federal Capital Territory.
To the presidential candidate of our Labour Party. Mr. Peter Obi & his wife Margaret Obi. to the Party leadership. to our loyal party Planning Committee members, Coordinators, Obidient family. committed party members and supporters and the entire campaign organization, thank you most sincerely; also thank everyone who voted for me. You have indicated your faith in me with your vote and I intend to honour it.
It has been a long journey leading to this moment Together we have done it. The voice of the people has prevailed and we are fired up to begin writing the next chapter of our future. I am deeply honoured and humbled by your consistent faith and trust in me and I wholeheartedly accept this call to serve.
I ran my campaign on the premise of the idea of a greater FCT. and made a promise to ensure inciusive and accountable leadership to drive sustainable development and shared prosperity for all.
Today, Would Iike to reiterate my campaign promises of inclusion, integriy, accessibility and good governance. I am standing here victorious only because of your unwavering commitment to securing a brighter future for Abuja. You all came out en-masse and voted for the change that we all desire. This victory belongs to you much more than me!
I know without a shadow of doubt that working together is the fastest way to achieve our hopes and dreams.
However, taking bold action towards building a better tomorrow will require each and every one of us labouring together for sustainable development.
As a nation, we have weathered several storms and overcome numerous obstacles that have threatened to erode our democracy, our unity and even our basic human dignity. Despite these unending challenges, we are still here standing strong. standing united. Standing hopeful and resolute in our belief that progress is possible. This mutually shared belief that a sustainably prosperous future for this country is attainable is why we have kept up the fight even in the face of insurmountable obstacles. It is also the reason why we must continue to fight for the actualization of the nation that we want a nation powered by good governance transparent competent. responsive, capabie, accountable and inclusive leadership. shared prospenty. and peacerul progress.
As we forge ahead on this journey together, I would like to keep open the invitation I made to all of you at the start of my Senatorial race and also challenge you further. to stay involved in the delivery of this mission to Grow a Better and Greater Abuja', where no one is left behind. Working together is how we got this far. staying relentless and united in our continued work together Is how we get even further. I remain humbled by your commitment to me. yet proud to have been chosen to represent the people of FCT, thereby making me a part of the shaping of a new and brighter era of Nigeria's history.
With your continued support, we can actualize the vision for inclusive prosperity and sustainable development.
Thank you!
God bless you all.
God bless the FCT.
God bless the Federal Republic of Nigeria!
IRETI HEEBAH KINGIBE – FCT SENATOR ELECT.
Senator Ireti is a beautiful, bold and brainy person whom the people in the FCT Abuja, had so much confidence in because of her unwavering commitment to their cause. At a time when people in the FCT needed someone who could bring to them the dividends of democracy, they turned to her to represent them in the Upper Chamber of the National Assembly in 2014.
They went back for the 2023 elections and indeed, the civil engineering graduate answered. The multiple-award winner and younger sister to Nigeria's former First Lady, Ajoke Mohammed, graduated with a Bachelor of Science degree in Civil Engineering from the University of Minnesota, United States, in 1980, becoming one of the very few female engineers in Nigeria at the time. As frontline philanthropist and outstanding advocate of women empowerment, younger women in Civil Society applauded her victory.
Hon. Mary Emiene, the President of MA Foundation, and a former diplomat, said the emergence of Senator Kingibe has brought new light to women's struggles of overpowering their challenges.
"Ms Ireti have been known to be a motivator, community builder and now our advocate for a better FCT. We are highly encouraged and will support to succeed". Said Dr. Mary
Another person in the Diaspora, Otunba David Fadipe who is a resident of Abuja, speaking from London, congratulated the new Senator, with words of that "is the beginning of new things in the FCT."
Senator Ireti Kingibe, sees herself as a quintessential Nigerian. 
—————————————————————————————————————————————
Your help to our media platform will support the delivery of the independent journalism and broadcast the world needs. Support us by making any contribution. Your donation and support allows us to be completely focus, deeply investigative and independent. It also affords us the opportunity to produce more programmes online which is a platform universally utilised.
Thank you.
Please click link to make – DONATION