The Ogun state indigenes under the aegis of Ogun State Diasporans through their coordinator Engr. Oluyemi Ogundele has said that there is no vacancy at Oke Mosan and has therefore appealed to the Ogun State indigenes home and abroad to vote for continuity and return Prince Dapo Abiodun and his deputy Engr. Noimot Salako-Oyedele to the Oke Mosan office. In his recent chat with the press, he said anyone who loves and wishes the state well would support Prince Dapo Abiodun's re-election. It is on record that this administration has done a lot and should be allowed to finish the work they have started.
The recent successful maiden flight that landed on the runway of the Ogun State cargo Airport is a testimony of a promise kept. Also, the various interactions with different groups, which include the youth's, labour unions, students, pensioners, Ogun State indigenes in Diaspora, and ethnic minority has also confirmed that he is an administrator with listening ears.
The group also appealed to other governorship candidates to abandon their aspiration and join hand with the governor to build the state if they really loved the state as they claimed. The diaspora group described Prince Dapo Abiodun as an "astute political administrator who is development-minded and merit-driven". They describe his style of governance and his achievements so far as second to none.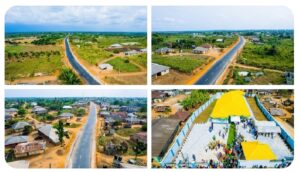 Engr Oluyemi Ogundele concluded that despite the victory of the ruling party APC in the recently concluded Presidential and National assembly elections, there are still a lot of work to be done to ensure a total victory for Prince Dapo Abiodun and his team. He enjoined everyone to troop out en-masse to secure a total victory for the governor and his deputy Engr Noimot Salako-Oyedele as well as all the state House of Assembly candidates of the ruling party APC.
—————————————————————————————————————————————
Your help to our media platform will support the delivery of the independent journalism and broadcast the world needs. Support us by making any contribution. Your donation and support allows us to be completely focus, deeply investigative and independent. It also affords us the opportunity to produce more programmes online which is a platform universally utilised.
Thank you.
Please click link to make – DONATION