Taraba State, North East Nigeria and a state described as one of the World's natural wonders heads to the poll to elect their governor for 2023.
The youngest among the top candidates and an ex military officer with experience in conflict management, leadership and governance took his campaign to Zing Local government of the state.
The candidate was days ago in another LGA were enormous carnival of thousands supporters welcomed them in Karim Lamido LGA.
There the Governorship Candidate of PDP said, "Both Karim Lamido and the entire Taraba State are important. As a result, when we take over, one of the first projects we'll complete in Karim Lamido is to rebuild and equip all primary and secondary schools in order to address the community's ongoing problems with obtaining a high-quality education.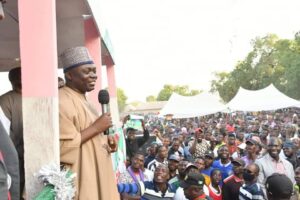 In order to expedite the development of the LGA, everything we do will be done in coordination with the council, traditional rulers, and leaders of the land.
With the reassurances we got that indeed the people are ready to deliver on  March 11,2023.
Our administration shall leverage the existing peace to provide quality education and efficiently deliver health care, among other things, in Karim Lamido LGA.
We especially appreciate the council of traditional rulers in Karim Lamido for the royal recognition and honor.
Today political campaign carnival moved to Zing Local Government where thousands of youths and local people full up the venue. It is a new way of creating the awareness packaged by the youths who believed in the new enthusiasm brought by Lt. Col Agbu Kefas.
Addressing a crowd of his supporters in Zing. Taraba State said their administration will direct energies to empowering willing people to build their capacities and capabilities.
Speaking as he moved among supporters said the administration of PDP 2023 would focus on the State's potentials, Farming projects/agriculture, security, and youth management through direct partnership with the government across the state.
His final words there – Dear residents of Zing LGA, I felt your energy today; I heard you, and I know I can count on your support next week Saturday March 11, 2023.
I want to express my sincere appreciation for the energy and support you showed me today. Your enthusiasm and commitment to the Kefas team are truly inspiring.
As we move forward, our focus will be on restoring the dignity of our schools, health centers, and businesses, and we will invest heavily in agriculture to encourage peasant farmers.
We believe that by investing in these key areas, we can create an LGA that is the envy of others. a place where our children receive a quality education, our families have access to quality healthcare, and our businesses can thrive.
I am dedicated to working tirelessly towards this vision, and with your continued support, I am confident we can achieve great things for Zing and Taraba at large. Let us work together towards a brighter future for Zing.
Thank you for your unwaverin g support.
Team Kefas, led by H.E. Engr. Haruna Manu, Senator elect, stopped at the palace of Kpanti Zing to pay homage.
Hon. Nasiru Bobboji Arrive Zing Venue of the program.
Hon. Markus Ishaya Manang at Zing given full support to Kefas as GOVERNOR Taraba State 2023.
Other top dignitaries and party leaders  includes The Deputy Governor, Hon. Haruna Manu: Party Chairman, Hon. Markus Ishaya Manang, Women Leader, Hon Mary: Hon. Nasiru Bobboji, State Party Executive among others.
—————————————————————————————————————————————
Your help to our media platform will support the delivery of the independent journalism and broadcast the world needs. Support us by making any contribution. Your donation and support allows us to be completely focus, deeply investigative and independent. It also affords us the opportunity to produce more programmes online which is a platform universally utilised.
Thank you.
Please click link to make – DONATION