A Nigerian born person breaks 102-year-old record in UK, for his brilliance and receives Her Majesty's Honour.
From former President Goodluck Bayelsa State-owned Niger-Delta University (NDU), Dr. Joel Eleojo Adams, made history by becoming the first non-British to be commissioned as an Aero-Systems Specialist Engineer.
Dr Adams was Kogi State-born, majors in Bayelsa and became the first Nigerian in the British Royal Air Force to the rank of a Flying Officer.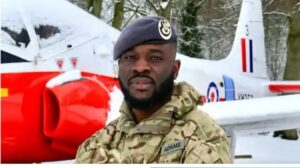 His academic status reads: obtained his B.Eng. (1st class honors) in Electrical and Electronics Engineering, was the valedictorian of his graduation year at the university and also a recipient of the prestigious Presidential Scholarship for Innovation and Development (PRESSID).
Masters degree in Control Systems at the Imperial College, London
Doctorate in Industrial Systems and Manufacturing Engineering from the University of Cambridge.
Career path – BOM Lead Project Analyst for Battery Electric Vehicles at Ford Motors in UK.
His great potential of his research work for military application, got him enlisted and shortly after awarded the Queen's Commission as an Officer in the British Royal Air Force. Now with his sword of office and honour.
He was also made a British citizen shortly after.
A Nigerian dream to success and opening new doors to the BAME communities base on merit and skills.
—————————————————————————————————————————————
Your help to our media platform will support the delivery of the independent journalism and broadcast the world needs. Support us by making any contribution. Your donation and support allows us to be completely focus, deeply investigative and independent. It also affords us the opportunity to produce more programmes online which is a platform universally utilised.
Thank you.
Please click link to make – DONATION