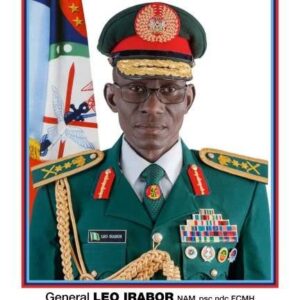 By Festus Fifen.
The Nigeria Defence Headquarters have dispel rumours making the rounds that the appointment of Major General Farouk Yahaya a course 37 officer as the new Chief of Army Staff COAS will lead to mass Retirement in the army.
Briefing Newsmen in Abuja, The Acting Director, Defence Media Operations, Brig.-Gen. Bernard Onyeuko said this is not true stating clearly that retirement is on Voluntary basis for senior officers who desire to do so.
In his words, " At this point you are all aware of the appointment of the new Chief of Army Staff, Major General Farouk Yahaya. This has stirred up lot of rumours in the media about mass retirements in the military. I wish to use this medium to dispel such unfounded rumours. Retirement is only on voluntary basis for senior officers who desire to do so. At this point, no retirements has been authorized by the Military High Command." He noted.
While speaking on the security situation across the country General Onyeuko said the current successes recorded against insurgents, bandits and criminal elements across the country will be sustained.
He started that the Armed Forces of Nigeria and other sister agencies between May 20 and June 2, 2021 has recorded a lot of successes in different theatre of operations across the country
General Onyeuko said " it is worthy of note that these operations are conducted simultaneously in the various theatres of operation on daily basis across the Country".
" Within the period in focus, troops of the Armed Forces of Nigeria intensified their operational efforts in the fight against terrorism, banditry, hoodlums and militancy as well as other criminalities across all the geo-political zones of the Country. Troops conducted series of clearance patrols, ambush, raid, picketing, cordon and search operations as well as artillery bombardments.
" Others are anti-piracy, anti-illegal oil bunkering, anti-crude oil theft, anti-pipeline vandalism and anti-smuggling operations were also conducted within the period. There were also extensive air operations, which included air patrols, Intelligence Surveillance and Reconnaissance missions, offensive air strikes, air interdictions, search and rescue operations as well as close air support for ground troops."
According to Gen. Onyeuko troops of Operation Hadin Kai between May and June 2 rescued kidnapped victims, neutralized scores of terrorists, destroyed terrorists' enclaves, arrested terrorists and intercepted terrorists' logistics items including vehicles. The troops also cordoned and search, raid operations and arrested Boko Haram logistics suppliers at different locations in Yobe state.
Troops of Operation Hadarin Daji within the period under review also conducted and executed series of concurrent operations which led to the arrest of kidnappers, bandits, gun runners, where scores were neutralized and a large cache of arms and ammunition recovered.
General Onyeuko also mentioned that other theatre of operations across the country also recorded huge successes.
General Onyeuko added that The Military High Command will not be weary of appreciating the general public for their support and continue to encourage them to provide credible and timely information that will facilitate our proactive engagements in the theatres of operations.
He used the medium to assure officers and men in different theatre of operations of the commitment of the Military High Command to see to their wellbeing while commending efforts of the gallant troops of the Armed Forces and personnel of other security agencies involved in various operations across the country for their resilience and indefatigable commitment.
—————————————————————————————————————————————
Your help to our media platform will support the delivery of the independent journalism and broadcast the world needs. Support us by making any contribution. Your donation and support allows us to be completely focus, deeply investigative and independent. It also affords us the opportunity to produce more programmes online which is a platform universally utilised.
Thank you.
Please click link to make – DONATION