Senator Ahmed Bola Tinubu, the globally recognized man, and the last man standing as one billionaire called him, is already too many steps into the Presidential Home of Nigeria's Presidents, the Aso Rock Villa; that he will be for the next four years as a resident and tenant.
As a man known and credited to have changed the structure of Lagos state into a global mega city and state, many will gather around him to be part of the inner, middle and outer cabinet of his administration. Surely, one must not forget his right-hand person is his son, Seyi Tinubu.
Nigeria is Africa's largest economy and a country that will not be an easy task to rule. The official inauguration day is on 29th May, but handover had already taken place on the 25th of May 2023 and the baton of GCFR was handed to him.
There have been various allegations and cases against his victory but with the presence scenario, our article is based on the calibre of those seeking to be in his cabinet as well as those seen by our team of private investigators.
Nevertheless, the findings and reports are certain to add credence to his administration and foreign or western's nations ' acceptance of the desire to make Nigeria work and put aside doubts on the legitimacy of the President-elect and his party, the APC. The government needs to be free from the trouble of securing recognition internationally.
This February 2023 general election in Nigeria is judged to be the first that produces a President without the input of the military or armed forces and one that the electorate are gaining ground of their power and authority to demand for justice, equity and fairness. Even as the incoming government continues to be mired in constitutional crisis.
Asiwaju's incoming cabinet will say a lot about the direction of Nigeria, his government and her foreign policies. Getting the right team together, internal kitchen cabinet, middle team and those to represent him outside the country will reassure both the Nigerian citizens and the international community that a new dawn is here for Nigeria and Nigerians.
Our reports indicated that the strategy will be to combine professional politicians (former Governors and Ministers etc) with a new breed of politicians who are still very much seen and recognised on their skills, leadership, entrepreneurial knowledge and networks.
Nigeria as a nation need the speed of a cheetah, the calmness of a dove, the smartness and intelligence of a chimpanzee, and the coat of arms features which are the dignity of the white horses, the fertilization of bountiful harvest as represented by the shield and the final ones are embodiments of the eagle – beauty, bravery, courage, determination, honour, pride, and strength.
"You see, Senator Asiwaju, the Jagaban and president-elect knows the people that will deliver what Nigerians seriously need in this hour and days ahead. He has planned many things that he is going to do if given the opportunity and that chance opportunity is with him now. He wants to serve Nigeria and bring much needed positive legacies and policies that will leave his name in gold centuries to come. He wants to achieve more than acknowledged done with Lagos state for Nigeria" a source confined who is close to the president-elect.
Here we bring you the names as seen reported by a few leading media houses in Nigeria plus our own internal research. Each state constitutionally is entitled to at least one ministerial position.
Tinubu's cabinet may feature these names – Businessday NG
No less than 20 people have been tipped to be in the cabinet of Nigeria's president-elect, Bola Tinubu, after he alluded on Thursday that competence rather than politics will weigh heavily on his choice of ministers.
The job of Nigeria's president easily passes as one of the toughest in the world and Tinubu has declared that he is not unmindful of the challenges he and his team face.
Thus, to effectively discharge his duties as provided by the constitution, he said he would hit the ground running by constituting a cabinet that will help him to run the machinery of the Nigerian state.
The people who are being speculated to make his cabinet include:
Babatunde Fashola (Former Minister in Buhari's Government)
Nasir el-Rufai (Former Governor in Buhari's Government)
Festus Keyamo (Former Minister in Buhari's Government)
Wale Edun (An entrepreneur and Former Executive in Asiwaju Lagos State's Cabinet)
Dele Alake (An entrepreneur and Former Executive in Asiwaju Lagos State's Cabinet)
Hanatu Musa (Legal Background)
Hadiza Usman (Former Executive in Buhari's Government)
Nyesome Wike (Former Governor Buhari's Administration)
Gboyega Oyetola (Former Governor in Buhari's Government)
Ibikunle Amosun (Former Governor & Senator in Buhari's Government)
Ben Akabueze (An executive in Buhari's Government)
George Akume (A serving Senator in Buhari's Administration)
Abubakar Badaru (Former Jigawa Governor in Buhari's Government)
Abdullahi Ganduje (Former Kano Governor in Buhari's Government)
Atiku Bagudu (Former Kebbi Governor in Buhari's Government)
Ibrahim Masari (First Vice Presidential Candidate to Asiwaju)
Tanko Al-malkura (Former Governor and Senator in Buhari's Government/Administration)
Ben Ayade (Former Governor in Buhari's Administration)
Ade Omole (Former Director in Asiwaju Campaign Strategy)
Simon Lalong (Former Governor and DG in Buhari's Government)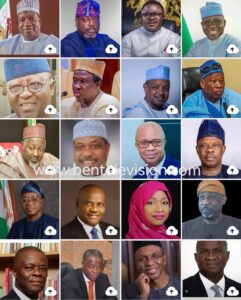 Additionally, some of these personalities are being discussed for appointment, namely
Professor Peter Okebukola, a former Executive Secretary of the Nigerian University Commission (NUC) – (Minister of State FCT);
Dr Kayode Fayemi, former Ekiti State governor – Foreign Affairs minister;
Mallam Nuhu Ribadu, a former Chairman of the Economic and Financial Crimes Commission (EFCC) Police Affairs minister;
Senator Aisha Benani, the losing governorship candidate of Adamawa state – Minister of State Power;
Prof. Yemi Oke, a Professor of Energy/Electricity Law; Minister of Power
Mr Babatunde Ogala, a lawyer and former member Lagos State House of Assembly – Attorney General of the Federation;
Mr Mofe Boyo, a director at Oando Plc – Minister of Power;
Dr. Beta Edu, the national women leader of APC – Minister for Women Affairs
Mr Ayo Abina, a financial expert and management consultant – Minister of State for National Planning;
Ms Yewande Sadiku, a former Executive Secretary and CEO of the Nigerian Investment Promotion Commission – Minister of Industry;
Mr Iyin Aboyeji, co-founder of Flutterwave;
Mr Dayo Israel, APC National Youth Leader and comes with many international recognition and knowledge. He is from Lagos State;
Mrs Uju Ohanenye, a former presidential aspirant, entrepreneur, lawyer and from Anambra State; and
Dr. Nicholos Felix (the youngest aspirant in the APC presidential contest); and Hon. Femi Gbajabiamila, The Speaker of the House of Representatives;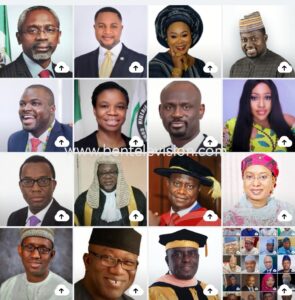 Additional source – Tinubu begins constitution of cabinet, economic management team Separato (tribuneonlineng.com)
Others mentioned from the Diaspora includes, Dr. George from Ukraine; Ms. Lola Mabogunje from Holland; Dr. Bashir Arisekola from Russia; Prince Omole Ade, Temitope Esan, Prof. Stanley Okolo, Dr. Mark Ubani, among others as non-party executives. Our details took into account some of the intended names are reappointed or appointed into boards.
In the face of strong headwinds, President-elect Tinubu will need to appoint strong heads in order to prevail | The Guardian Nigeria News – Nigeria and World News — News — The Guardian Nigeria News – Nigeria and World News
Chief Adebayo Olawale Edun
Sanusi Lamido Sanusi 
Prince Malik Ado-Ibrahim 
General Sulaiman Dili Aliyu: 
Adewole Adebayo 
Dr. Ahmed Tijjani
The sources and our team of researchers and investigators said those not lucky to secure ministerial slots and offices will be drafted into other powerful committees as well as being able to be appointed into other strong agencies, parastatals and commissions, bearing in mind Nigeria has more than 100 embassies and high commissions around the world bringing in appointments as High Commissioners and Ambassadors among others.
The last and beginning point of view is how the government and President Tinubu post his representatives to foreign nations for Nigeria's image, diplomacy and rebranding which is now lying on economic, business-like and garnering investments opportunities. Nations are competing against each other more than ever before and ambassadors representing Nigeria in places such as the United States; India with Amb Ahmed; The United Kingdom with Amb. Isola Sarafa; High Commissioner of Nigeria to South Africa, Italy & the Vatican (because of the perceived religious angling); Canada, Germany, Ukraine, Malaysia and Russia have shown commitments to the country's performance and must not be rushed out bearing the strategic positions of the Western Nations towards 2023 elections, the war in Europe and the japa syndrome.
They also indicated the likelihood of having other personalities based on their merits, skills and knowledge from other parties into his government as already seen with his meetings with political executives from other parties. Forming a small unity government for the sake of Nigeria rather than the party's path.
7 Nigerian Entrepreneurs making significant business strides in Diaspora » PIECE — WITHIN NIGERIA
Festus Uzoma Mbisiogu – CEO, Blue Diamond Logistics Group
Lord Echendu Ndubuisi Anthony – CEO, Echendu Group
Chinedu Echeruo – Co-founder, Love and Magic Company
Dr. Kase Lawal – CEO of Camac International Corporation
Alexander Amosu – Serial Luxury Entrepreneur
Tope Awotona – Founder/CEO, Calendly
Adebayo Ogunlesi CON – Chairman /Managing Partner, Global Infrastructure Partners
MERIT-BASED & HONOURABLY Mentions
Gregory Ozegbe – Chairman/CEO, Africa Alliance Group
Yemi Edun – CEO of Daniel Ford & Co Ltd
Mentoring Commandant Alistair Soyode – The founder of the first media and opened up Nigeria and Nigerians to the World & first global leader of Diaspora Initiatives
Daniel Moses – Founder, Property Wealth Corporation
Hon Sunday Dare – Former Minister of Youths and Sport Development
Abbey Wemimo – Co-founder, Esusu Financial Inc
These personalities and politicians mentioned is this article comes from various discussions, investigations and reports. To have an inclusive government as required in President Buhari's message to Asiwaju below
President BUHARI to President ASIWAJU
"…To my brother, friend and fellow worker in the political terrain for the past ten years – Asiwaju Bola Ahmed Tinubu, I congratulate you on the realisation of your dream, which was propelled by a burning passion to put Nigeria amongst the leading nations of the world.
You have indeed worked for this day and God has crowned your efforts. I have no doubt that your passion for excellence, reliance on competence, fairness in relationships, commitment to equity, loyalty to the country and desire for Nigeria to be globally relevant would come through for you, under God's guidance, as you lead our country to levels higher that I am leaving.
You are the best candidate among all the contestants and Nigerians have chosen well…"
– President Muhammadu Buhari farewell message
Nigeria must be ready with haste to position herself globally in terms of acceptability, transparency, and honoured accountability.
—————————————————————————————————————————————
Your help to our media platform will support the delivery of the independent journalism and broadcast the world needs. Support us by making any contribution. Your donation and support allows us to be completely focus, deeply investigative and independent. It also affords us the opportunity to produce more programmes online which is a platform universally utilised.
Thank you.
Please click link to make – DONATION