In Jos, Plateau State, a Dutch in the Diaspora, Mr. Wiebe Boer or Yohanna Maigona according to social media has declared interest in the governorship race in Plateau State, Nigeria.
It will be recalled that many Nigerians are elected or appointed in the political positions across the world with a record in the 2022 May's Elections in the UK where a mother Cllr Anna Ehanacho and two of her daughters were been elected.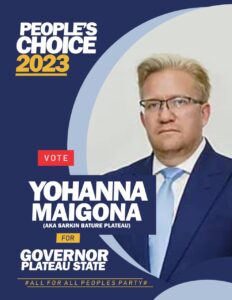 Mr. Boer party is not known to be registered in Nigeria but has shown a tremendous appeals to stakeholders.
The Internet has flooded with his posters as Mallam Maigona gave and named his party as "All for All Peoples Party".
Boer Maigona was born in Jos and lives in Jos all his life. He speaks an impeccable Hausa, pidgin and of course other languages.
The Nigerian electoral commission and laws allowed a person born in Nigeria or of Nigerian parents to stand for election which Mr. Boer seems to have perfected, speaks local language, Hausa fluently and while also claimed to have schooled in Jos.
In business is the CEO of All On Energy, a company dedicated to and in renewable energy, such as solar power, electricity and provider of employment.
Nigeria's top writer and global icon Prof. Wole Soyinka Pan African Writers Association (PAWA) is known to him, as an affiliate of the association.
He was the interviewer during the 12 May 2021 of Professor Wole Soyinka , the first guest of PAWA's Conversation Series.
In 2003 with the Jos crisis in the country was almost killed. He survived and now sharing a thought to join the politics of the state.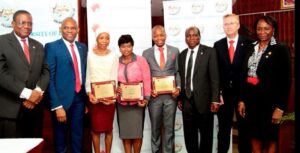 Dr. Boer is the Chief Executive Officer of All On and joined the team from the Boston Consulting Group (BCG), where he was one of the founders of the strategy firm's Lagos office. Prior to BCG, Dr. Boer spent five years with the Heirs Holdings Group in Lagos, playing roles including Chief of Staff to the Chairman, Director of Strategy, and CEO of the Tony Elumelu Foundation. Dr. Boer has also worked in the Rockefeller Foundation's Africa Regional Office in Nairobi, McKinsey & Company, and with World Vision Mauritania where he managed a USAID funded development project. While conducting his doctoral research in Nigeria for his Yale PhD thesis, Wiebe co-founded AfriOne, the first ISP in North Central Nigeria. He has served on a variety of corporate and public sector boards across Africa, and is also a widely published author and speaker. His most recent book, A story of Heroes + Epics: The History of Football in Nigeria, published by Bookcraft in 2018. Dr. Boer earned a PhD and two Masters degrees from Yale University and a Bachelor's degree from Calvin College, all in history. He spent one year studying political science at the University of Jos, and completed his primary and secondary education at Hillcrest School, also in Jos, Nigeria where he was born and raised.
According to Thisday…https://www.thisdaylive.com/index.php/2018/10/21/wiebe-boer-a-black-man-in-white-skin/
The stories were corrected by his verified source with,
Wiebe Boer, Ph.D…..
It has come to my attention that posters implying that I am running for Governor of Plateau State under the name of Yohanna Maigona have gone viral. I am categorically stating that I have no intention of running for political office in Nigeria, and I am not
eligible to do so.
The only truth to the insinuation is that I was born in Jos and raised in Taraba and Plateau States to Dutch missionary parents and have spent the last 12
years living in Lagos and serving Nigeria and Nigerians in various capacities. I have always been a
staunch believer in the potential of Nigeria and will continue to support the country's development from
the sidelines.
Ends
—————————————————————————————————————————————
Your help to our media platform will support the delivery of the independent journalism and broadcast the world needs. Support us by making any contribution. Your donation and support allows us to be completely focus, deeply investigative and independent. It also affords us the opportunity to produce more programmes online which is a platform universally utilised.
Thank you.
Please click link to make – DONATION