11-point Agenda for In-coming Governments – It must be New Wine in New Wine Skins! By NICK AGULE
29.05.2023
Introduction
Nigerians went to the polls on 25th February 2023 to elect a President and members of the National Assembly. On the 18th  of March 2023, it was the turn to elect Governors and members of State Assemblies. As the new leaders ready to take their oaths of office today, this column sets the agenda for the next 4 years – the 11-point agenda.
1. Diaspora voting (political agenda)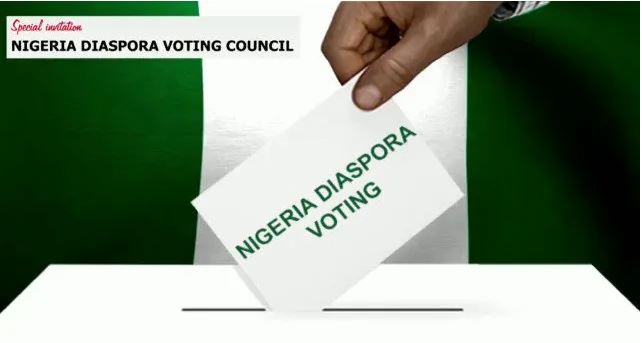 The in-coming federal government, as a matter of priority, and to win our confidence as diasporans, must table an executive bill before the National Assembly to amend the constitution of the Federal Republic of Nigeria to provide for diaspora voting. For us, this is the main project that will lead to progress in other aspects of our country. Once political leaders in Nigeria know that they will be facing millions of diaspora votes that cannot be bought and cannot be rigged, we will begin to see good governance in Nigeria! As a diasporan, this is undoubtedly and indisputably our number 1 agenda for the in-coming federal government.
2. Rule of law (political agenda)
The difference between the UK, where millions of Nigerians sojourn, and Nigeria, is the rule of law. As Nigerians, we behave unruly in Lagos, get on a flight to London and behave very well once we arrive in the UK. The mental reset that happens airborne is that we know that in the UK, you break the law, and you pay for it regardless of your status. Until we get Nigeria to this level of law enforcement, efforts by government to reset the country will largely be in vain. The in-coming governments must begin law enforcement with themselves. Elected officials must declare their assets. Those breaking our laws must be dealt with regardless of their status and attachment to the leaders. Our judiciary must be allowed to dispense justice without looking at faces. The legislature must be given their independence. If the in-coming president and governors begin by fiddling with the leadership of the national and state assemblies respectively, then, we are not even ready for democracy yet. Fiddling with the leadership of the legislature by the executive arm of government is like a driver disabling the brake pedal on his Ferrari! There can only be one outcome – accident! This is why it is troubling to hear people say the president-elect is to decide on the leadership of the National Assembly. Those advocating these views are setting the president-elect for failure. Bottom line is that corruption is what's killing and Nigeria draining it of blood and only the rule of law will arrest the situation!
3. Electricity (economic agenda)
At 3,000MW of electricity per day, the power supply in Nigeria is so abysmal there is no way the economy will jumpstart and thrive! What Nigeria has been trying to do over the past 60+ years is like a team of doctors trying to get a body that needs 200 pints of blood to function, to thrive and to flourish with only 3 pints of blood. It will never happen! That body will be largely in a coma! This is what is happening to our economy! India, for example, is supplying 400k MW daily to 1.4b people! if Nigeria were to supply India with power based on our output rating, we will be giving them only 21k MW (as we are giving 3k MW to 200m people!). Meanwhile, Nigeria is blessed with abundance of energy sources – from gas (which we are tragically flaring) to renewables such as wind, sun, hydro and land for biomass! The in-coming governments must, as a necessity, declare a state of emergency in the power sector and attack the malaise in the same gusto that govt paid attention to Covid. If Nigeria gets even 30k MW daily for a start, the economy will take-off, with the private sector in the lead, creating humongous jobs and consequently shoring up govt revenues in leaps and bounds! Thankfully, President Muhammadu Buhari has assented to the constitutional amendment bill giving powers to States to establish independent electricity markets by generating, transmitting and distributing electricity in areas covered by the national grid in their states which hitherto was the exclusive preserve of the federal government. States now no longer have an excuse not to power their economies! The federal govt should revisit the privatisation of the electricity sector by privatising transmission and restructuring distribution either for the existing DISCOs to sign technical partnerships or the licences re-awarded to global power sector operators who have the technical, financial and commercial pedigree to supply power to an economy of over 200 million people.
4. Security (political agenda)
Government as a matter of priority should declare a state of emergency in the security sector. The entire apparatchik of the security agencies must be relieved of their jobs and competent officers who love Nigeria above any ethnic or religious leanings to be appointed to restore security in all parts of Nigeria. Closer scrutiny and monitoring of the security votes at both federal and state levels should be intensified to ensure we have value for money. Without security it is impossible to get anything to work in Nigeria.
5. Agriculture (economic agenda)
The mainstay of Nigeria's economy is our fertile lands from north to south and east to west. Everywhere in Nigeria, agriculture is possible. The government needs to take immediate steps to support farmers with mechanisation so that every available land in Nigeria is cultivated with machines. This way, we will not only assure food sufficiency/security, but food exports will become Nigeria's highest forex earner. There are countries today, including blocs like the EU, who are phasing out the use of fossil fuels in few years to come, but no country can phase out food consumption. So, agriculture provides us with far better prospects for economic development than oil, which the current government is unfortunately expending humongous monies to explore for in places like Nasarawa state! The job creation capacity of agriculture is unquantifiable! Nigeria is blessed with an abundance of freshwater rivers all over the country. Each river is to be dammed to create an economy for fishing, portable water, irrigation, hydroelectricity and tourism. Agriculture alone is capable of taking off the streets all the unemployed youths we have roaming about in Nigeria today. With security sorted and mechanisation made available, agriculture will just boom! A low unemployment rate means no more idle hands to be used by evil people to perpetrate insecurity in Nigeria.
6. Infrastructure (economic agenda)
A state of emergency needs to be declared on our infrastructure. The roads have collapsed. There is no rail service. Housing is unaffordable etc. Government needs to focus on private sector participation by creating the enabling environment (transparency and accountability with investors). Just imagine if we begin by linking the federal capital to the 36 states capitals by rail for a start, this will facilitate the transportation of goods and passengers and create high quality jobs to jumpstart the economy.
7. Constitution review/electoral reforms (political agenda)
For the past 24 years, we have tried to implement a military junta contraption called a constitution. This was a document that General Abacha jumbled together to enforce his transmutation from a military junta to a civilian president where he will continue to exercise maximum control over Nigerians and our resources. That we have continued to use this document, which even by its name is a scam – calling us a federal republic when in reality we are operating a unitary government – must not be allowed to fester beyond 2024! Nigeria needs a brand-new constitution that will be put together by the people of Nigeria (another scam with the current contraption which says it's the people that put it together when in reality it was just 1 man hungry to perpetuate himself in power that did it) and caters for our agitations and aspirations.
8. Education/Healthcare (social agenda)
Everywhere in the world, including in the advanced nations, the 2 critical sectors that governments never completely let go to the private sector are education and healthcare, because of their importance to human development. A citizenry that is illiterate and in poor health will under-perform, under-develop and under-deliver! In the UK for instance, the government provides FREE HEALTHCARE at all levels – primary (GPs), secondary (hospitals) and tertiary (specialist hospitals) to all citizens. Equally, the government provides FREE EDUCATION to all children up to high school (A levels). Government provides finance for university education such that a child from the poorest home can still attain their educational aspirations and the finance is paid back for several years but only after graduation and earnings at a particular threshold. The in-coming governments must give immediate attention to these 2 key sectors to lift off the streets all the out-of-school children in Nigeria back to the classrooms and for Nigerians to begin to access quality healthcare. If the economy is jumpstarted, govt revenues will be shored up to fund education and healthcare even the more.
9. Gas (economic agenda)
Gas is perhaps Nigeria's richest resource but it's also the one we tragically destroy instead of harnessing to unlock huge value from. The federal government must, as a priority, take immediate steps to end gas flaring and convert the produced gas into other uses such as electricity generation, domestic gas supply, industrial gas supply, automotive gas fuel etc. In the UK, every building has gas piped into it just as water and electricity (gas is not bought in cylinders). Imagine the value that will be unlocked if Nigeria begins to pipe gas into every property beginning with our cosmopolitan mega cities. To convert gas to electricity requires only a tested and readily available piece of equipment – turbine – which when gas is piped into it, on the other side electricity is produced in plentiful. With gas piped to our industries and industrial layouts, there will be no need for diesel generators that cost a lot of money to buy, are expensive to maintain and very harmful to the environment. The gains from gas utilisation will be unquantifiable if tapped!
10. Refineries (economic agenda)
It has been our collective shame as a nation that as one of the world's largest producers of crude oil, we have not refined a single barrel of crude oil for more than 20 years and counting. Government must take immediate steps to transfer the 4 moribund refineries into the private sector either by outright sale, lease or concession. This singular step will end fuel scarcity, stop the crippling subsidy racketeering and save humongous costs of transporting crude to foreign refineries and then transporting products back to Nigeria. Thankfully, Dangote refinery has come on stream to set the pace and the govt owned refineries must also follow.
11. Dual foreign exchange markets
Nigeria is perhaps the only country aspiring to join the ranks of the developed nations that operates a dual foreign exchange (forex market) where an artificial market has been created by the Central Bank of Nigeria (CBN), where dollars are sold at huge discounts of about 50% of the market rates. This strange arrangement has created a big loophole where those privileged to have access to the dollars in the so-called official market simply round-trip it to the parallel market and walk away with humongous gains without lifting a finger to work. The CBN should be compelled to cancel this so-called official market so that there is a SINGLE market of dollar buyers and dollar sellers in Nigeria. If the Government wants to support local industries who are struggling due to high forex rates then other avenues such as tax rebates, import waivers etc can be considered but giving them dollars at hugely discounted rates with the CBN unable to monitor the utilisation of the forex and thus unable to stop round-tripping is akin to robbing Peter (Nigerians) to pay Paul (the privileged).
Conclusion
I appeal to all Nigerians of all political persuasions to pray for the in-coming leaders because if they succeed, we all succeed and if they fail, we all fail. Time for politics is over and now is time for governance and we all must have all our hands on deck to the change the narrative about Nigeria. I wish the in-coming leaders well. God bless NIGERIA!
Facebook: Nick Agule, FCA
—————————————————————————————————————————————
Your help to our media platform will support the delivery of the independent journalism and broadcast the world needs. Support us by making any contribution. Your donation and support allows us to be completely focus, deeply investigative and independent. It also affords us the opportunity to produce more programmes online which is a platform universally utilised.
Thank you.
Please click link to make – DONATION