____________________
Hon. Mustapha Ussif, Ghana's Minister for Youth and Sports who is also the Member of Parliament for Yagaba/Kubore Constituency hosted the delegate and executives of Ghana Nigeria Youth Summit. He was joined in the meeting by Alh. Hafiz Adam, the Ministry's Chief Director.
The group was led by Cmrd. Barry Ndu. The group officially presented the Resolution/ Communique from the 8th Ghana-Nigeria YOUTH Summit which held recently.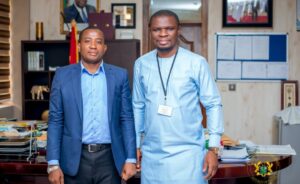 Among the recommendation is the setting up of a Joint Ghana Nigeria Youth Commision to help in consolidating the relationship between Ghanaian and Nigerian young people. A commission that would ensure a more cordial integration of citizens from both countries to empower, support and advise the two Presidents on issues relating to its youthful population.
Furthermore, they also recommended reserving at-least 45 percent of appointments to young people between the ages of 25 and 45. Part of the suggested that young people especially women should be given filing fee exemptions during political party primaries as to encourage and give opportunity to people with intellectual capacity but may have not the financial resources to contest such elections received positive response.
They also advised that Government should as a matter of National importance create an enabling environment for investors to build more industries that would provide job opportunities for millions of unemployed young people in the society.
The Minister and member of Parliament was clearly delighted and appreciated the organisation while assuring of his total support in the initiative and confirmed presence at this year's Ghana – Nigeria Achievers Award on Saturday 31st July, 2021 in Accra. The Minister reiterated the importance of a roboust Ghana Nigeria relationship, stating that his best friends while studying in UK were all Nigerians.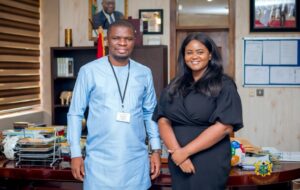 The Youth Group plans to make same approach in Abuja shortly to present proposal to Mr. Sunday Akin Dare, Nigeria's Minister for Youth and Sports Development.
The hope they are trying to build is that through the document and have done every year would help the Government in forming policies for National Development. This is part of their patriotic contribution is to see a more cordial engagement between Ghana and Nigeria and a society where more young people are given the opportunity to lead from the front.
It's a selfless service to God and country. We wish and hopefully for them to all reap the benefits of that bilateral engagements.
—————————————————————————————————————————————
Your help to our media platform will support the delivery of the independent journalism and broadcast the world needs. Support us by making any contribution. Your donation and support allows us to be completely focus, deeply investigative and independent. It also affords us the opportunity to produce more programmes online which is a platform universally utilised.
Thank you.
Please click link to make – DONATION