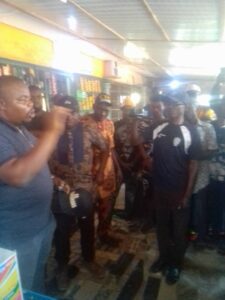 A philanthropist, Chief Nwabunna Achu has once again put smile on the faces of Umuobasi Mbala Isuochi Youths as he empowers the people with tricycle populary known as Keke worth millions of Naira.
About Ten Youths from the community benefitted from the  kind gesture of the great philanthropist.
Chief Nwabunna while donating the tricycle to the youths, encouraged beneficiaries to work hard and be of helping hands to other when stable with business.
He pleaded with the youths to shun all forms of violence and avoid things that will bring disunity among the community.
President General, Umuobasi Town Development Union, UTDU, Chief Iyke Obidike commended Chief Nwabunna for the donation and prayed for God bless upon him.
The PG message which he posted on the official WhatsApp group of the community reads
"As this convey of tricycles lands on the soil of Umuobasi for the empowerment of our youths, so shall heaven open its floodgate of blessings on you Chief Nwabunna Achu. Your money shall arrive in big convouys. You will experience overflows, God of Umuobasi shall set his set his angels charge over you, they shall work for you and they shall build a garrison around you and your resources. So shall it be. 
During my private devotion this morning, I asked God for prosperity and peace for the land of Umuobasi, brothers please join hands with me in that prayer. At the of 2022 Umuobasi will never be the same again. God shall send us destiny helpers, amen.

—————————————————————————————————————————————
Your help to our media platform will support the delivery of the independent journalism and broadcast the world needs. Support us by making any contribution. Your donation and support allows us to be completely focus, deeply investigative and independent. It also affords us the opportunity to produce more programmes online which is a platform universally utilised.
Thank you.
Please click link to make – DONATION