From our fact checks….. 
It is absolutely impossible for WhatsApp to have such a feature of allowing government institutions to monitors people's chats because WhatsApp is end-to-end encrypted.
When so, nobody, government nor even WhatsApp can read any messages.
Finally, as many uses WhatsApp as a breeding ground of misinformation and disinformation, the company has been working on the application to stop the menace of fake news 📰.
The screen messages shared and seen is below. 
Be mindful of your chats 
Iᴍᴘᴏʀᴛᴀɴᴛ ɪɴғᴏʀᴍᴀᴛɪᴏɴ ᴀʙᴏᴜᴛ WʜᴀᴛsAᴘᴘ's ɴᴇᴡ ʀᴜʟᴇs ᴛᴏ ɢʀᴏᴜᴘ ᴍᴇᴍʙᴇʀs …
1. ✓ = ᴍᴇssᴀɢᴇ sᴇɴᴛ.
2. ✓✓ = ᴍᴇssᴀɢᴇ ʀᴇᴀᴄʜᴇᴅ.
3. Tᴡᴏ ʙʟᴜᴇ ✓✓= ᴍᴇssᴀɢᴇ ʀᴇᴀᴅ.
Tʜʀᴇᴇ ʙʟᴜᴇ ✓✓✓ = Tʜᴇ ɢᴏᴠᴇʀɴᴍᴇɴᴛ ᴛᴏᴏᴋ ɴᴏᴛᴇ ᴏғ ᴛʜᴇ ᴍᴇssᴀɢᴇ.
5. Tᴡᴏ ʙʟᴜᴇ ✓✓ ᴀɴᴅ ᴏɴᴇ ʀᴇᴅ ✓= ᴛʜᴇ ɢᴏᴠᴇʀɴᴍᴇɴᴛ ᴄᴀɴ ᴛᴀᴋᴇ ᴀᴄᴛɪᴏɴ ᴀɢᴀɪɴsᴛ ʏᴏᴜ.
6. Oɴᴇ ʙʟᴜᴇ✓ ᴀɴᴅ ᴛᴡᴏ ʀᴇᴅ✓✓ = ᴛʜᴇ ɢᴏᴠᴇʀɴᴍᴇɴᴛ ɪs ᴄʜᴇᴄᴋɪɴɢ ʏᴏᴜʀ ɪɴғᴏʀᴍᴀᴛɪᴏɴ.
7. Tʜʀᴇᴇ ʀᴇᴅ ✓✓✓ = Tʜᴇ ɢᴏᴠᴇʀɴᴍᴇɴᴛ ʜᴀs sᴛᴀʀᴛᴇᴅ ᴘʀᴏᴄᴇᴇᴅɪɴɢs ᴀɢᴀɪɴsᴛ ʏᴏᴜ ᴀɴᴅ ʏᴏᴜ ᴡɪʟʟ ɢᴇᴛ ᴀ ᴄᴏᴜʀᴛ sᴜᴍᴍᴏɴs sᴏᴏɴ.
Bᴇ ᴀ ʀᴇsᴘᴏɴsɪʙʟᴇ ᴄɪᴛɪᴢᴇɴ ᴀɴᴅ sʜᴀʀᴇ ᴡɪᴛʜ ʏᴏ ᴜʀ ғʀɪᴇɴᴅs .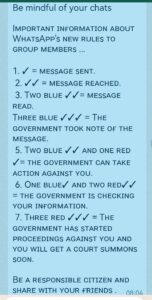 You will notice that It had reduced the forwarding limit to five posts a time, it reduced the limit of frequently forwarded messages to one post especially to groups etc.
People will always try to be ingeniously creative.
Source- https://www.bentelevision.com
—————————————————————————————————————————————
Your help to our media platform will support the delivery of the independent journalism and broadcast the world needs. Support us by making any contribution. Your donation and support allows us to be completely focus, deeply investigative and independent. It also affords us the opportunity to produce more programmes online which is a platform universally utilised.
Thank you.
Please click link to make – DONATION