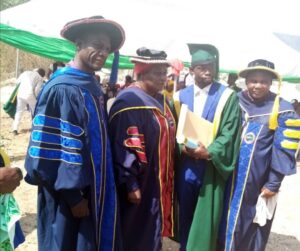 Education is classified as a tool to unlocking knowledge and providing intelligence to many around the world.
Such is seen even in the faith path where many seeks knowledge, deep insight, breaking down barriers and gaining more diverse interpretation through their studies to become better suited for today's demand of spiritual development and growth.
It is with such that the Triune Biblical University (TBU) held their convocation ceremony over the weekend in one of their many global cities, this time in Lokoja, Kogi State, Northern Nigeria.
Hundreds gathered as witnesses, recipients and benefactors of a well respected global institution to received their awards taking into consideration the Covid-19 practises and observations.
One of the recipients now Dr. Ronke Adewinle thanks the Almighty God for giving her the strength, time and desire to complete her course.
"I am thrilled and grateful for the opportunity to work on the course and completing it. It has not been easy with our situations and conditions, but as the Bible says, we give God the praise and thanks. I am happy."
She bagged the award of Doctor of Philosophy in Christian Education (PhD). Now, Rev. (Dr) Mrs Aderonke Ann Adewinle.
The University was established for the purpose of sharing the good news.
Triune Biblical University (TBU) is an evangelical, interdenominational community dedicated to the preparation of men and women for the manifold ministries of Jesus Christ and His Church. Under the authority of Scripture it seeks to fulfill its commitment to ministry through Undergraduate, Graduate and Post Graduate Education, Professional Development and Spiritual growth. In all its activities, including instruction, nurture, worship, service, research and publication, TRIUNE BIBLICAL UNIVERSITY strives for excellence in the service of Jesus Christ, under the guidance and power of the Holy Spirit, to the glory of the Father.
—————————————————————————————————————————————
Your help to our media platform will support the delivery of the independent journalism and broadcast the world needs. Support us by making any contribution. Your donation and support allows us to be completely focus, deeply investigative and independent. It also affords us the opportunity to produce more programmes online which is a platform universally utilised.
Thank you.
Please click link to make – DONATION