In his Desire to be the next Governor of Taraba State Northeast Nigeria on the platform of the Peoples Democratic Party PDP, Lt. Col Agbu Kefas Rtd is leaving no stone unturned to make sure he gets the mandate of the people to occupy the Taraba State Government House through the polls. In this Exclusive Interview with a Crew from BEN Television in his country Home in Jalingo, the Retired Lt Colonel speaks about his Pledge and commitment for Taraba People. Excepts:
Question: From your manifestos you seem sure of what you want to do In Taraba State, and the people are just wondering if this is just another political promise, so the man Agbu Kefas will he be different ?

Ans. Well, thank God and thank you for that Question and I also commend your effort for interacting with the people. Charity they say begins at home and thank God you have been to my hometown in Wukari, I am not that kind of person in Leadership that does not have feelings for the people.
Leadership is from God and God put a man or woman in a place of position to be able to attend to people in certain needs, it is a selfless service, meaning that it is a service that you need to make sacrifice for the people you represent. So it's not all about you first, but the people first. so as I have  said it before and I am still saying it  again, that I will do what I say, any word  that I speak out that is what I am  going to do, anything I make up my mind to do, I  have always done it so I don't think this case will be a different one, so I want to reassure the people that they should trust me, let them come out and vote for me on the Election Day   and they will see what I will do.
I can assure the people of Taraba State that after my first tenure in Office, they will be the ones to campaign for me in the second tenure, because I am sure my good work will speak for me.
Question: One of your Campaign Promises is Harmonisation of Ethnic and Religious Differences in the state. How do you intend to Handle the ethnic, religious and cultural diversity in Taraba State if Elected Governor?
Ans: My simple answer will be Respect for humanity, when talking about religion, it's only God that knows those that are his. Some people use religion to hypnotize people to destroy people to distract them, But I use religion in a positive way. And as I have said in places before now, in Taraba state for example, in each family you will find a Christian, a Muslim and a traditional worshipper, so if we found ourselves wired in this way, we have to make use of this diversity for our own good, for our benefit and as our defence and protection against evil and external Aggression. It makes it easier for us, where a Christian cannot go, a Muslim brother can go, where a Muslim brother cannot go, a pagan brother can go. So we are very unique, and our uniqueness should give us more blessing not a curse. So people in leadership position will try to harness this kind of opportunity and make life better for the people.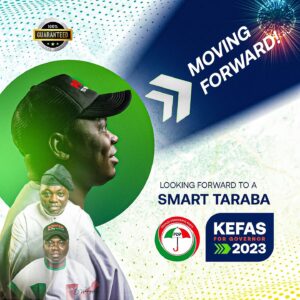 Question:  Youth restiveness is something that is a problem all over the country, not just Taraba state and by classification and  the Nigeria factor, they will call you a youth because you can relate more with them couple with your military experience. How do you intend to make sure that the youths are taken out of the streets?
Ans: Yeah, because I was once like them, I feel for them more  because they are more at risk in this their generation but that is why we are there to help them find or define their purpose. So we'll do our best and we have a way we will talk to them like in those days for example, our parents will challenge us, when they call you a fool that does not mean you are a fool, but you try to prove to them that you are not a fool. But Today, when you call a child a  fool, He or she will just say  my dad said I am a fool, that means I am a fool and that's it. but then in those days we don't see it that way. And when you fail, you will be mocked for failing and you will improve, but these days you mock a child, that child goes into depression.
So things have changed.  So when you know how we have survived in our time, we'll see how we can make life better. So I think I have a solution to that, first thing I will do is to create opportunities for them, you don't force them, create huge opportunities for them and all of them will like to pick which one they feel they can fit in, which one they think they can do better so through that, you can now train them, groom them to fit into those areas of their strength. So we have the capacity to do that as a government. And I believe that we will be able to solve that problem. When you create opportunities for them, you have opened the door for them, and when  they get in there and inside the room of opportunities, you will be able to do their placement and then you put them to task, you challenge them, later on, they would want to prove to you that they can do it, before you know it, you have made something positive out of their lives.
Question: How do you intend to handle urban /rural development renewal? Meaning what you would do to make sure that the people feel the presence of government in terms of infrastructure, and other social amenities that they need to live a good life?
Ans: Well, the most important thing right now and for my administration is to  spend more on Rural development. So we will be having a 60% and 40% ratio. 60% for rural development and the rest 40% on urban development. This is because the people that ran and are running away from the villages have to go back. When they go back to the villages there will be production, agricultural production and other forms of production which will bring about human capital development, there'll be human presence in those areas which will make it not to turn into a forest. So first of all, make the place habitable, secured, then once the people get in there, the government will now link those villages to the cities and the urban areas, this will bring about connectivity which will in turn bring development. This we intend to do by continuing from where the present government will stop.
So I think it's still a work in progress. And there'll be continuity that's moving forward. So definitely we will commit to rural development because we want to attract foreign investors and make Taraba a tourist destination of choice.  We need to make sure that the city is beautiful,  So it's going to be something I want to do simultaneously, taking a step at a time depending  on the availability of resources and how we want to go about it.
Question: So lastly, how prepared are you for the campaigns
Ans: Well the campaigns are ongoing, we've been doing a lot of consultations, visitations, talking to people you can see that the atmosphere is all about PDP. So this is an indication that we have prepared Taraba is a PDP state and we as a party have not done anything offensive to the people to turn against us. Though you can't rule out a few that want to jump the gun but we're still in charge. So within the few days we have, we will just do a little tour here and there, make some political statements to charge and "ginger" the people so we will reawaken the consciousness of the PDP.
—————————————————————————————————————————————
Your help to our media platform will support the delivery of the independent journalism and broadcast the world needs. Support us by making any contribution. Your donation and support allows us to be completely focus, deeply investigative and independent. It also affords us the opportunity to produce more programmes online which is a platform universally utilised.
Thank you.
Please click link to make – DONATION