—————–
Take Motorbike To Cameroon Or Flying Boat To Seme Border, Just Leave Nigeria —Pastor Adefarasin preaches to Nigeeians
He shared this during their Sunday service in Nigeria.
He preached extended words to his congregation and called on all leaders from different divides to be united for the sake of the country admonishing that no country in the world history had survived two civil wars bearing Nigeria went through one in the 1970s.
He said, "No country in the world history has ever survived two civil wars. You could be in fright and running for your dear life any day from now if this thing does not come to an end.
"My personal encouragement to leaders and government on all sides is that it is not time to be partisan. It is time to sit down and dialogue.
"I urge you all to have a plan B and start making moves on how to leave this country. I know you have faith, I have faith too but I have a plan B.
"With technology, I can speak to you from anywhere in the world.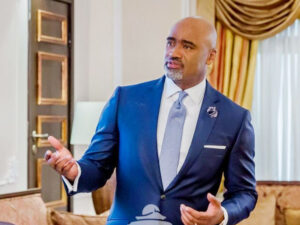 "Get yourself a plan B. Whether that's an Okada to Cameroon or flying boat to Seme Border. Do whatever you can to see you leave this country.
"Just get your plan B because these people are crazy. The leaders we have, they are all bunch of jokers," Pastor Paul Adefarasin added.
—————————————————————————————————————————————
Your help to our media platform will support the delivery of the independent journalism and broadcast the world needs. Support us by making any contribution. Your donation and support allows us to be completely focus, deeply investigative and independent. It also affords us the opportunity to produce more programmes online which is a platform universally utilised.
Thank you.
Please click link to make – DONATION