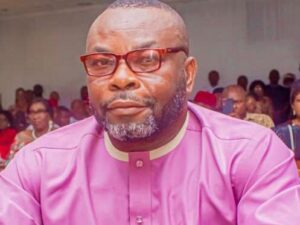 GOODWILL MESSAGE TO ABIANS AND NIGERIANS AS ABIA STATE CELEBRATES 32ND AND NIGERIA 63RD INDEPENDENCE DAY
I write to felicitate Abians and Nigerians on the occasion of the 32nd and 63rd Independence Day Celebration.
63 years ago Nigeria gained independence and as part of the gradual developmental process in our efforts as a country to achieve and uphold the dreams of our founding fathers which are anchored on shared prosperity and social justice, Abia State was created 32 years ago.
Although as a country and a state, we have had our moments of telling embarrassment occasioned by hardships in the economy, security, and other vital aspects of our society, we have also had our moments of pride as citizens of this state and country. Those moments of our National pride, when the flag of our dear country flew tall on the global stage have been the result of the gallantry of our youths in all works of life – Sports, Academics, and Music, just to mention but a few.
I agree with the former Vice President of Nigeria, Atiku Abubakar that "Across the globe, and in various fields of human endeavor, the youth of this country have proven to have the competence to rival any of their peers from any part of the world.
"The talents and doggedness of young Nigerians who have refused to give up on the country are the inspiration for a greater future that we celebrate today.
"The energy of the Nigerian youth is a formidable force in the consternation of manpower and skills that power the global economy".
Abia youths have had a greater share in bringing this country and state to the global limelight as they have won us Gold, Diamonds, Silver, Bronze, and other medals both nationally and internationally.
I am aware that Abia State is still a young state though not a very young one at that, however, at the core of my independence message to the good people of Abia State, especially the youths, is to mobilize our strength and submit the same for the shared prosperity of this great state. By this, I mean that we must give our political leaders the necessary support to pilot the affairs of this state for the greater good of all of us. This is because, to a very large extent, good and quality leadership delivery depends on good and quality follower-ship.
I thank God for the gift of Dr. Alex Chioma Oti, OFR, the Executive Governor of Abia State who within his short period in office has proven through his many policies to be people-oriented. We must give him the needed support to thrive in his avowed determination to change the political leadership narratives of the state.
I congratulate fellow Nigerians, the good people of Abia State, friends, and well-wishers of our dear country and state the world over and wish you a happy Independence Day celebration.
God bless the Federal Republic of Nigeria. God bless Abia State and may God bless all of you.
 Sir Nwaobilor Nwadinma Ananaba, Hon. Commissioner for Sports and Youth Development,  Abia State.
—————————————————————————————————————————————
Your help to our media platform will support the delivery of the independent journalism and broadcast the world needs. Support us by making any contribution. Your donation and support allows us to be completely focus, deeply investigative and independent. It also affords us the opportunity to produce more programmes online which is a platform universally utilised.
Thank you.
Please click link to make – DONATION