Region's Biggest Mini Convention to be held in Shropshire
Hundreds of Mini cars are set to converge on Oswestry this coming weekend.
Wirral Minis Owners Club have organised an event for enthusiasts of the iconic car to view other Minis, as well as showcase their own cars. 
Hosted at the British Ironwork Centre in Oswestry on Sunday 16th January, the event will start from 10am onwards and is completely free – you just need to bring a love for all things Mini! 
With plenty to see and do for all the family, there are expected to be around two hundred Mini cars, of all models, set to arrive in Oswestry. The British Ironwork Centre will also be open for attendees to experience the sculpture displays, sample food in the café, and find a January bargain in the showroom.
The Wirral Minis Owners Club invite members to join their club from all over Liverpool, Cheshire, North Wales, as well as nationally, and generally meet up on the first and third Mondays of each month. 
Clive Knowles, the Chairman of The British Ironwork Centre, says, "prizes for the best examples are being organised by ourselves, and all these events carry no cost to the clubs wishing to use the sculpture park. We invite clubs to enquire directly with us regarding events."
You can find more information about the Wirral Minis Owners Club at https://wirralminis.com/, and about The British Ironwork Centre at https://www.britishironworkcentre.co.uk/.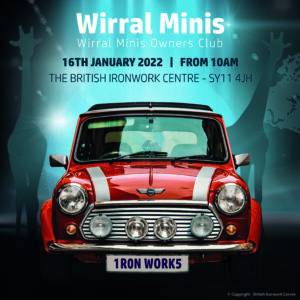 —————————————————————————————————————————————
Your help to our media platform will support the delivery of the independent journalism and broadcast the world needs. Support us by making any contribution. Your donation and support allows us to be completely focus, deeply investigative and independent. It also affords us the opportunity to produce more programmes online which is a platform universally utilised.
Thank you.
Please click link to make – DONATION