Ogun state governor, HE Prince Dapo Abiodun, the Emir of Kano, HRH Aminu Ado- Bayero, NDLEA Chairman Gen Mohammed B. Marwa, National Information Technology Development Agency (NITDA) DG, Mr. Inuwa Abdullahi and others to receive the highly recognised global brand, Forbes Award today.
The Ogun State Governor Prince Abiodun will receive Forbes Best of Africa Governor of Industrial Revolution, HRH Ado-Bayero will be honoured with Most Outstanding Traditional Ruler Award; Gen. Marwa Health Safety Award of Excellence while Abdullahi will receive Outstanding Cooperate Governance CEO Award just as Dr Mrs. Onikepo Akande will deliver goodwill message.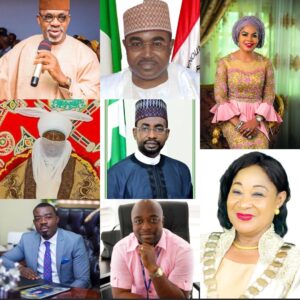 Other recipients include: Hon. Chidubem Nkeiruka Onyejeocha, Deputy Chief Whip Federal House of Representatives to be conferred with Forbes Best of Africa Excellent Service Award, Dr. Christopher Irene Imumolen who is the President, American Institute of Certified Professionals will receive Outstanding Academic Achievement Award; Dr. Kofi Amoa-Abban (CEO Rigworld International Services Limited) Outstanding Business Leader in Oil and Gas and Richard Nii Armah Quaye, Founder and Board Chairman Quick credit/Oya micro credit &Founder/CEO, Quick Angels limited who will be honoured with Forbes Best Of Africa Distinguished Entrepreneur Award.
In a statement on Thursday, Chairman of Foreign Investment Network (FIN), Her Excellency Olayinka Fayomi who is the organizer of the event said that FIN in partnership with Forbes has for decades identified emerging economies in Africa seeking investors and have exposed those investment gaps to Forbes Billionaires and international investors.
Throwing more light on the event which will take place during a virtual symposium with the title "Leadership and Investment" on Friday, Fayomi said that Mark Furlong, President of Forbes Best of Africa custom will personally handover the awards.
She said, "Over the years, Foreign Investment Network has worked together with Forbes Best of Africa to attract quality Foreign Direct Investment (FDI) in Oil and Gas, Aviation, Agriculture, Health care, Education, Infrastructure to the continent of Africa.
"The Forum will also discuss how development and investments can be utilized as a mechanism to accelerate the emergence of an inclusive and innovative society".
She went further to explain that Forbes Award is exclusively conferred on individuals and corporate organizations with a distinguishing touch of excellency in their various endeavours. She said that Forbes identifies individuals with value of purpose, integrity and innovative business approach for the overall interest of humanity.
According to her, the event will serve as a launching pad for the international business community to explore investment opportunities in Africa and other emerging markets. "It will stimulate wider investment exchange between countries/organizations towards a prosperous Africa and also serve as a platform for states to build partnerships, foster business relationships, improve financial inclusion, strength local currencies, improve global financial operations and create balanced economic policies".
She further pointed out that the volatile economic situation and dysfunctional economic policies in Africa have often discouraged several investors from looking towards the continent.
"One of our greatest challenges at Foreign Investment Network (FIN) has been to attract investors who understands the risks of investing in the African continent due to political volatility and inadequate infrastructure.
"We have over the years carved a strategy that has assisted our clients understand the fragile nature of democracy in Africa. We have developed a system that builds a buffer around their investment even when there are disruptions of democratic structure".
She expressed optimism that the symposium and award ceremony will be a spring board for international investors to have greater confidence on the business climate in Africa and invest therein for better Return on Investment.
—————————————————————————————————————————————
Your help to our media platform will support the delivery of the independent journalism and broadcast the world needs. Support us by making any contribution. Your donation and support allows us to be completely focus, deeply investigative and independent. It also affords us the opportunity to produce more programmes online which is a platform universally utilised.
Thank you.
Please click link to make – DONATION