Abuja, Sept. 10, 2023 (NAN)
The Progressive Nigerians for Sustainable Future (PNSF) has said that despite Nigeria's challenges at both national and state levels, it remains the envy of the international community.
Prince Ade Omole, Co-convener of the group, said this at a dinner on Saturday in Abuja, Nigeria, organised to celebrate President Bola Ahmed Tinubu's first 100 days in office.
Omole, the Director of Diaspora for the defunct All Progressives Congress (APC) Presidential Campaign Council (PCC), congratulated Nigerians for the peaceful transition, historic inauguration, and successful 100 days of Tinubu in office.
He said this shows the growing commitment of Nigeria's leadership and its citizens to the principle of democracy and good governance.
He added that it was, however, imperative that we build on our achievements as elder statespersons, leaders and captains of industries.
"Our followers look up to us to provide direction, guidance and a solid foundation for Nigeria's political and economic development," Omole said.
He added that Nigerians' continued support and prayers were still needed in the challenging, but not impossible, task of nation-building.
He congratulated President Tinubu and Vice-President Kashim Shettima for steering the ship of state in the right direction since May 29.
He also congratulated them on their victory at the Presidential Election Petition Tribunal and commended their maturity and statesmanship.
Omole said Tinubu's unprecedented accomplishments in just 100 days in office were a pointer to a just, prosperous, and sustainable Nigeria that all would be proud of.
He noted that policy decisions taken by the Tinubu presidency had pulled the country from the brink of socio-economic catastrophe.
He described some of the policies as the first line charge that had rekindled the hopes of the Nigerian public in their beliefs that better days were still possible in the polity.
Omole said much of the party's manifesto was built on Tinubu's Renewed Hope Agenda.
"On President Tinubu's inauguration day on Monday, May 29, 2023, he announced that the fuel subsidy had ended, reiterating that it was dead and buried.
"Yes, the removal of fuel subsidy has caused and continues to cause socio-economic dislocation in the polity, but measures have also been taken to cushion the economic effect.
"We cannot be oblivious to this hardship because the removal must have its short-run pain if we must have a long-run gain as a country.
"However, the other side of this fuel subsidy removal coin is the amount of at least N1 trillion of savings accrued to the national coffers," he said.
He stressed that this substantial financial windfall had increased the federal allocations of our subnational governments since July 2023.
He added that it had also made state governments have a new lease on their financial purse strings as more funds were made available for capital projects.
He noted that harmonising the country's fuzzy forex regime, which had been reprehensible, if not detrimental to national earnings, was another bold step worth mentioning made possible by Tinubu's Presidency.
"A few days after assuming office, Tinubu gave the directive to harmonise the conflicting forex regime. Another hope was rekindled for the Nigerian people by this singular act.
"These blood steps taken by a bold president, amongst others, clearly show that Tinubu's presidency would be different from usual.
"One of the most accurate measures of a good and exceptional leader is how he responds to situations.
He noted that Tinubu was currently in India and would soon be coming home with investment goodies in the interest of Nigerians.
According to Omole, the president has attracted over $14 billion in investment pledges from investors of the subcontinent at the Nigeria-India economic roundtable.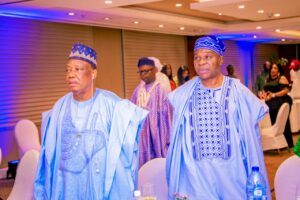 Also speaking at the event, Gen. Abdulmalik Jubril (Rtd), National Chairman of Nigeria Legion, stressed the need to review the country's security architecture to ensure adequate security of life and property.
He also called for training and retraining security personnel and adequate funding for security agencies, adding that synergy among security agencies was vital to addressing the country's insecurity issues.
In the spirit of "Ask not what your country can do for you – ask what you can do for your country", the Elite Group seized the celebratory occasion to present its ongoing humanitarian project primarily focused on empowering the teeming youths in Nigeria. Elite Smart Kiosk, one of their bespoke grassroots humanitarian projects, is efficiently reliable, powered by solar, aesthetically designed with low maintenance cost and supports direct employment.
The special guests in attendance included HRH (Dr) Halimat Adenike Tejuosho, Rt. Hon. Yusuf Ibrahim Zailani, Hon Patrick Obahiagbon, Dr Paul Akintelure, Mr Mohammed Bello Adoke (SAN), Hon David Adesanya, Hon Duro Meseko, Amb Kayode Oguntuase, Otunba Abiodun Ajiboye, Mr Desmond Utomwen, Prof Adeduwura Adeyemi, Alhaji Abdullahi Suleiman, Dr Sylvia Okoro, Dr George Agbakahi, Dr Wole Aboderin, Princess Atika Ajana, Hon. Lady Marlene Onyeocha-Okolie, Hon Tayo Makanjuola, Dr Tayo Sobola, Princess Ann Ehigiator, Hon Tosin Adeyanju, Hon Oyinkansola Okewoye, Hon Abdullahi Ibrahim Jafar, Comrade Jacob Obi, Pastor Olufemi Bakare, amongst others.
(NAN)
—————————————————————————————————————————————
Your help to our media platform will support the delivery of the independent journalism and broadcast the world needs. Support us by making any contribution. Your donation and support allows us to be completely focus, deeply investigative and independent. It also affords us the opportunity to produce more programmes online which is a platform universally utilised.
Thank you.
Please click link to make – DONATION