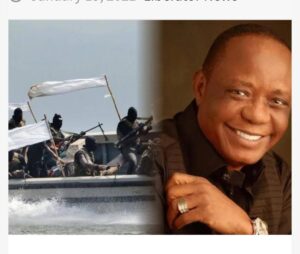 Tells Buhari, EFCC, others to disregard blackmails against Capt Okunbor Hosa
Warri,A coalition of former Militant leaders involved in the Anti-Pipeline Vandalization Oil theft and Illegal Bunkering activities along the waterways and creeks of the Niger Delta region have described as "pure blackmail" the allegations of mismanagement, stealing and diversion funds leveled against High Chief Captain Hosa Okunbor, the chairman of OMS,, Ocean marine Solutions Nigeria Ltd by a former Business partner and ex- managing director of skye bank, Mr Olatunde John Ayeni. The Liberator Newspapers can report.
According to the coalition of Former Militants, though they have forwarded a protest letter to President Muhammadu Buhari and the, the Inspector General of Police and the Acting Chairman of the Economic and Financial Crime Commission (EFCC) to disregard the purported allegations made by Mr Olatunde John Ayeni as a drawning man struggling to take his last breath,and are being made under duress during interogation under EFCC net, they are sponsored and carelessly targeted at co-opting innocent individuals into his ongoing investigation by the financial anti graft commission over allege money laundering, mismanagement and embezzlement of billions that belongs to skye bank.
The coalition of Ex-militant leaders, after an emergency meeting called by the leadership of the group, and signed by Gen FIAWEI PATHFINDER AKA GEN OSAMA, said preliminary investigation into the business dealing between the duo of Tunde John Ayeni and Captain Hosa Okunbo was due to sales of his shares in the OMSL Company..
According to the statement,"For the purpose of clarification before the general public Mr Olatunde John Ayeni approached Captain Hosa Okunbor and told him that he want to sell off his portion of shares of 30,000,000 Ordinary shares of N1,Naira each that belongs him in the OMSL company due to his ordeal with the EFCC the anti graft agency and Captain agreed and this was done on the 8th of August 2018,after proper documentations and papers has been duly signed by the both parties and on the 26th day of November 2018 Captain Hosa Okunbor transferred the sum of N1,000,000,000 (One billion Naira to Mr Olatunde John Ayeni through his Sterling Bank account in Central Area branch in Abuja, Account name bearing Olutoyi estate development and services Ltd, an account owned by Mr Tunde John Ayeni."
"And the balance sum was paid fully in March 2019,and this informations was also forwarded to the Coorperate Affairs Commission(CAC) and EFCC for further notification for record purpose and even the office of the vice president was duely notified accordingly, and that Mr Tunde John Ayeni has soled out all his shares of 73,150,000 ordinary shares he has in OMSL Company wish was now transferred to Wells Property Development Company Ltd owned by Chief Captain Hosa Okunbor.Base on this fact of agreement Mr Olatunde John Ayeni also resigned his position as Director in Ocean marine Solutions Company Ltd, (OMSL) therefore Mr Tunde Ayeni is no longer a Director and a shareholder of Ocean marine solutions Company Ltd and his subsidiaries".
"We therefore seize this opportunity to condemn in totality the purported cheap blackmail false allegations of lies cooked and doctored by Mr Olatunde John Ayeni and his co hill fated travelers who are enemies of progress that are out to dent his name and drag the name of Captain Hosa Okunbor to the mode and trying to marline the ocean marine solutions Company to bad lights.
"And We also warn that Mr Tunde John Ayeni with his co-travelers who are specialize in cooking and plotting false allegations against Captain Hosa should desist from this inhuman wicked malicious devilish act or else we the Ex Militants in the Niger Delta would have no choice than to tag them as enemies to Captain Hosa and his immediate family will not hesitate to declare them wanted including their families and their properties will not be spared if anything happens to Captain Hosa and his businesses across Nigeria and abroad" It warned.
"Enough is enough and we will not fold our hands and allow corrupt minded fellows like Tunde Ayeni his co hots that dose not have any single integrity in the society to dent the good name of Captain Hosa, Captain who is a man of honor and a peace loving people's friendly leader in the Niger Delta and Nigeria at large and we will do everything humanly possible to put a final stop to those who attacking Captain Hosa Okunbor and trying to damage his name, as our kinsman from the Niger Delta that who has created a lot of job opportunities for the youths in the Niger Delta region through his pipeline surveillance contract job in the creeks of the region".
"Therefore the Ex-Militant groups call on president Muhammadu Buhari, the Inspector General of Police and the Acting chairman of Economic and Financial Crime commission with the General public to ignore and disregard this malicious, devilish inhuman, cheap blackmail and false allegations cooked against Captain Hosa is just a calculated attempt to drag the name of Captain Hosa Okunbor and the Ocean marine solutions Company that is handling pipeline surveillance Contract job in the creeks of Niger Delta to the mode and the general public with the presidency and the Inspector General of police should not take their paid adverts and payed petitions flying on the pages of newspaper seriously, disregard and ignore all the purported fraudulent claims made by Mr Olatunde John Ayeni and Co hill fated frostrated fellows
—————————————————————————————————————————————
Your help to our media platform will support the delivery of the independent journalism and broadcast the world needs. Support us by making any contribution. Your donation and support allows us to be completely focus, deeply investigative and independent. It also affords us the opportunity to produce more programmes online which is a platform universally utilised.
Thank you.
Please click link to make – DONATION