Honourable Abike Dabiri Erewa, The Chairman/CEO, Nigerians in Diaspora Commission (NIDCOM), has bagged another award and this time honoured by News direct.
The NEWSDIRECT AWARD OF EXCELLENCE FOR EXEMPLARY LEADERSHIP 2021.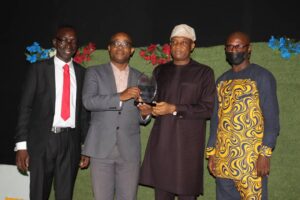 L-R: The Publisher and Editor in Chief, NewsDirect Newspaper, Dr. Samuel Ibiyemi; Mr. Oladipo Odebowale representing the Chairman/CEO, Nigerians in Diaspora Commission, Hon. Abike Dabiri-Erewa; Mr. Tunji Bello, Commissioner for Environment and Water Resources in Lagos State; and Mr. Oladele Ogunkanbi, NIDCOM Staff.
The recognised award took place on Lagos, Nigeria on award Friday at the Federal Palace Hotel, Lagos, Nigeria.
The award is part of the organisation's event with its theme 'PUBLIC SECTOR FINANCING: THE OIL REVENUE, CHALLENGES, SOLUTIONS & PROSPECT."
Dr. Samuel Ibiyemi, the Publisher and CEO during his speech said bestowing the award was reached by an informed actions of the recipient and is a special recognition given to the strides and remarkable roles she played in driving diaspora remittances as well as protection of Nigerians in the diaspora.
He added that the criteria and benchmark was centralised, and comparative positioning among Nigerian Chief Executive Officers and other top government officials.
The Head Lagos Annex of NIDCOM Mr. Oladipo Odebowale, received the award on behalf of Hon. Abike.
—————————————————————————————————————————————
Your help to our media platform will support the delivery of the independent journalism and broadcast the world needs. Support us by making any contribution. Your donation and support allows us to be completely focus, deeply investigative and independent. It also affords us the opportunity to produce more programmes online which is a platform universally utilised.
Thank you.
Please click link to make – DONATION