———————(–(—
communique of emergency intervention 
NATIONAL ADDRESS OF LEADERS OF CONSCIENCE TO ALL NIGERIAN CITIZENS AND STAKEHOLDERS
08 June 2021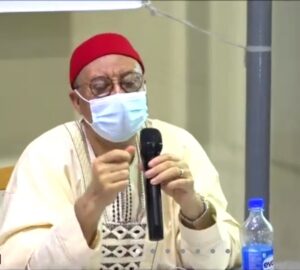 Being the communique of an emergency national intervention meeting of leaders of conscience in Nigeria held on Tuesday, 8th June 2021 in Rockview Royale Hotel in Abuja under the aegis of the National Consultative Front on the fragile state of Nigeria.
abstract
eminent leaders of conscience team up with National Consultative Front as Pan Nigerian Initiative to save Nigeria from anarchy and unwanted civil war by:
launching stakeholders' mobilisation to douse unprecedented spate of anarchy and pervasive insecurity in Nigeria.

initiating  nationwide political consultations and dialogue for national consensus and harmony.

charging government, former leaders who manned the three arms of government, and organised private sector to wake up to duty and responsibility against rising anarchy and civil strife in the country. 

demanding urgent convocation of democratic engagements to reset and restore confidence in Nigeria.
Fellow Compatriots,
PREAMBLE
Patriots and leaders of conscience from across Nigeria hereinafter simply known referred to as Pan Nigerian Initiative have come together under the auspices of National Consultative Front to consider the current Nigerian situation with intention of creating hope and strategies for restoring sanity, harmony, and stability to our country to halt the slide into dangers of anarchy and civil war.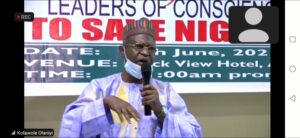 This

Initiative

has noted that:
It is consensus that Nigeria has manifested inability of government to protect the citizens or prevent pervasive scale violence and emergent insurgencies. 

The country is confronted with multiple internal insurrections, ethnic divisions and strife, and separationist agitations in all the six geopolitical zones of the country.

The inability of the Nigerian state to provide peace and stability to its people has generated widespread poverty, official corruption, insurgencies, banditry, kidnapping, assassinations, mindless killings, general insecurity as well as dangerous negative effects on the economy and development of the country.

There is a deep-seated trust deficit between government and the governed and with such level of distrust, governing the country has become problematic with serious effects on the legitimacy of the State to exercise authority over the citizens and this legitimacy may shrink to the point of a completely failed or collapsed State.

While government agencies and functionaries and politicians are busy working on ideal 2023 election preparations and timelines, the socio-political landscape has been fast deteriorating and the spirit of sectionalism has spread across Nigeria coupled with internal revolts and separationism have reached an advanced stage.

Most people have begun to imagine that 2023 election programme may not materialise and therefore, a course correction to deal with degradation matters on ground have become imperative and compelling to return from the brink of anarchy and civil war.
That in the midst of these disorders, elected and appointed officials of Government are often perceived as traitors, and they now seem to lack the needed public trust to move the country forward. At this stage it is evident that our democracy and indeed our country is under greater threat. Therefore, the promoters of this

Pan Nigerian Initiative,

National Consultative Front have shelved their own pro-political events to squarely face the task of rallying together the

Save Nigeria Now Agenda

to save Nigeria from an impending civil war and to direct the country's endowments towards erecting a truly prosperous and harmonious Nation that can deliver good governance, security, and prosperity to her citizens, while also providing an exemplary leadership in Africa.
THEREFORE

, to take urgent steps to stem the dangerous tide of violence, criminality, insecurity, anarchy, and tension in the country before they degenerate into full blown civil war and irreversible corporate collapse, the

Pan Nigerian Initiative

has resolved as follows:
Stemming the tide of prevailing widespread insecurity
That the people of Nigeria have a responsibility to protect Nigeria from collapse and create a platform to bring all warring parties to a peace table.

That attacks on individuals, groups and public facilities must stop immediately. 

That Nigerians must not that we are not enemies of one another and must protect each other in the light of seeming failure of elected leaders and state agencies to protect us. 

That Nigerians must stop the dangerous practice of ethnic and religious profiling as all of us could fall victims in our own country where we are all hosts and guests. 

That the current events in Nigeria resulting in violent conflicts and killings have put the citizens on emotional lockdown which invariably does not admit or allow  any form of moderate views or moderation.

That Nigerian leaders and political elites must stop patronising the Igbos or blackmailing the elites or leadership of the Igbos.

That for urgent intervention, proliferation of arms in the hands of non-state actors must be curtailed urgently, the national security architecture must be urgently reorganised and security enforcement and maintenance should be decentralised. 

That we are calling on all political parties to suspend all further political events or keep them at backstage to give room to activities to bring back Nigeria from the brink.

That we are calling on elder statesmen to temporary halt their well-deserved rest and take on the task of saving Nigeria from complete destruction. 

That we are calling all former Presidents and Heads of State,  former Senate Presidents and Speakers of the Federal House of Representatives, Former Service Chiefs,  former Security Chiefs, former Inspectors General of Police, former DG's of DSS, former Secretary-General of the Commonwealth, Chief Emeka Anyaoku, President and Secretaries of all the Ethnic Cultural organizations to serve on

National Elders Committee

to deal with the problem of leadership failure which is the root of the system failure in the country. 

That the former Head of State, General Yakubu Gowon is hereby requested to call a meeting of former Presidents, Head of State, and their Vice-Presidents to rally round President Muhammadu Buhari at this dark hour of Nigeria. The former Presidents should use their experience and wisdom to assist President Buhari to stabilize Nigeria. The country needs them now to show leadership once again.

That the outcome of consultations between Mr President and former Presidents will set the stage for an

enlarged Council of State meeting

which will include all former civilian and military Governors, former Military Chiefs of Staff, all serving and former Chief Judges, all former and serving Ministers, serving and former NASS leaders and representatives of the Youths.

That we are also requesting the former National Assembly Presidents and Speakers to join the national call to duty once again to rescue Nigeria because the issue on ground requires their experience and expertise.

That, in the same vein, we are calling on the former Chief Judges of Nigeria to also make the needed sacrifices to help save Nigeria.

That we have called the great men and women who have manned the three arms of government of Nigeria to once more come out to rescue the country and we humbly request Mr President, Muhammadu Buhari to convoke a Council of State meeting to further widen the scope because this is not a time to apportion blames. It is time for conflict resolutions and engagements to avert possible disaster.
Addressing constitutional defects, injustice, and imbalance in the political system. 
That we call on Nigerians to resist the outrageous cost of contesting elections and insist on winning electoral power by pursuing reforms, which include electronic voting, electronic counting of votes, electronic transmission of results, biometric accreditation of voters as well as diaspora voting, among others as these will put paid money politics or highest bidder's electoral merchandising but rather on ideology, principles, values and service to the citizens and the electorate. 

That the amendment of the current Electoral Act is critical and crucial to foster just and justiciable democratic process and to create faith and trust in the leadership. 

That the Initiative will pursue

Popular Democratic Constitutional Resetting and Remaking of Nigeria

to give the country a new popular constitutional template that will provide the Nigeria peoples with a new political structure and national legal framework that can essentially make politics less violent and less corruptible but service oriented and values driven for mass prosperity.

That to save Nigeria, we must interrogate the ideological content of our conversations, for instance, the

almajeri

system, notion of open grazing; that we must resolve the conflict of vision , for instance, do we want an Islamic or secular state;

That to save Nigeria, we must resolve the identity conflict between the leadership who has plundered our resources and mismanaged our diversity and the people-the victim- who bear the brunt of poverty, illiteracy, lack of health care, food insecurity, and now paying with their lives.

That to save Nigeria, we must fight for the independence of the judiciary and legislature for the Executive arm especially the Governors can confine selves to basic functions and all arms can do their jobs efficiently and effectively.

That to save Nigeria, we must unite as Nigerians and negotiate.

That to save Nigeria, we must go back to the people and people centred programmes, activities and operations based on the principles of social justice.
Constructive engagement with appropriate authorities and stakeholders
That we believe that we as Nigerians whether in or outside of Government are the only people who can restore everlasting peace in Nigeria, and we shall reach out immediately to the elder statesmen and other leaders for immediate meetings to reach all the various groups leadership for ceasefire and submit to dialogue and conflict resolutions for lasting peace. 

That the Leadership of the National Assembly shall be given new role to reach out to the Presidency on the one hand and to the people they represent on the other hand, for common knowledge and understanding to foster goodwill between the people and the Government  for  common understanding to assure participation, dialogue, and access to justice.

That we see the youths as a veritable group that cannot and should not be ignored and therefore all efforts should be made to incorporate them across the country into

National Youth Council for Peace

and ensure their corporate participations in all the processes being engendered by the current and former leaders of the three Arms of Government and the groups of eminent elders in the quest for national security and durable peace.

That we shall engage and interface with relevant authorities, including the Nigerian Presidency and the Leadership of the National Assembly to impress on them the will and yearning of Nigerians for a new Nigeria that works for all and to bridge growing gaps and deficits in faith and trust between government and ordinary Nigerians to prevent political sabotage and total breakdown of law and order.

That we demand of the Federal Government and the National Assembly to appropriately use the ongoing constitution amendment process not only to douse tension but to cause amendments which will cause short term peace solutions and provide for Referendum/Constituents' Assembly in Sections 8 and 9 of the existing 1999 constitution, without fail, to enable Nigerian Citizens a leeway to taking full ownership of their Constitution as well as allow them exercise their inalienable constitutional Sovereignty over the country.

That we are demanding that the Federal Government, all citizens, stakeholders, and organisations including the organised private sector should commit to peaceful process and dialogue to enable the pathway to a conflict resolution and social justice.

That elected leaders who have sworn to protect the Nigerian constitution must speak out and act against threats to the  country's territorial integrity and unity. Irredentism and other activities which threaten other Nigerians living lawful existence must be fought with stronger resolve within the law.

That the politicians must re-discover the basic tools of persuasion, negotiation, and compromise to avoid sacrificing Nigerians on the altar of personal egos or ambitions. 
Setting Nigeria on a new course of political stability and economic prosperity based on social justice. 
That our country must not be allowed to fail. Those who understand the implications of state failure should speak up. Others who know of our strengths and potential to survive should speak up. Those who can build bridges should do so.

That a citizens driven national consultations under the newly initiated

Coordinating Committee of People's Constitutional Dialogue

being anchored by Dr. Olisa Agbakoba (SAN), Dr Hakeem Baba Ahmed, Dr Tokunbo Awolowo Dosunmu, Prof Attahiru Jega, Fr. (Dr.) George Ehusani, Dr. Usman Bugaje, Chief (Dr) Mike Ozekhome, SAN, Sen Mike Ajegbo, Hadjia Najatu Mohammed, Dr Obadiah Mailafia, Barr Femi Falana, SAN, Prof Kingsley Moghalu, and Prof Pat Utomi in a 60 member Committee to explore a people's led, process driven national consultations and dialogue in building national understanding and stability in its task to facilitate a truly democratic people's constitution for the country based on the principles of justice, fairness and equity.

That a

National Equity and Unity Committee

under the joint leadership of Dr Olu Agunloye, Dr. Hakeem Baba Ahmed, Prof Kingsley Moghalu, Hon Dosumu Awolowo, Dr Olisa Agbakoba, Arch Eyo Etok, Dr Oby Ezekwelesi, Chief Peter Ameh, Chief Precious Elekima, Tanko Yunusa, Chief Olawale Okunniyi, Alh. Shehu Musa Gabam, Col Tony Nyiam, Prof Chidi OdinKaKu, Engr Buba Galadima, Father George Ehusani, Dr Ralph Okey Nwosu, Dr Chris Ekiyor, Dr Obadiah Malaifa, Chief Mike Ozekhome, Barr Natasha Akpoti, Bashorun Dele Momodu, Hon Janet Adeyemi, Senator Grace Brent,  Alhaji Shettima Yerima and Senator Shehu Sanni to urgently identify and reach to various aggrieved and marginalized Stakeholders in the country and to engage governments at various levels in ensuring justice, equity and unity in the country and for political leadership to be sensitive to national balancing as well as the culture of ensuring equity and justice to traditional interests, while building up unifying national ethos. Full membership of Committee shall take more members from other interest groups and stakeholders.

That considering the large number of Nigerians in diaspora, we have decided to set up

Coordinating Peace Bodies

in North America,  Europe,  Asia and African sub-region to find routine and diplomatic ways on how peace can return to Nigeria. 

That online recruitment and registration of members, players and promoters as well as establishing of Project Quarters in Nigeria, Africa, Europe, North America etc. have been authorised to commence immediately.
Organisation and Mobilization towards actualising the new Save Nigeria Agenda
That all political parties, politicians and political support groups should announce suspension of all political activities that are not geared towards stemming the tide and moving the country to normalcy. And that all campaigns and ambitions for 2023 elections should for now take the backstage.

That all power politics of 2023 should be downplayed to focus the effective mobilisation of Nigerians towards national cohesion and stability through a popular process of national consultations capable of facilitating new people's Constitution.

That there is urgent need to facilitate a credible alternative Peoples' movement capable of saving and rescuing Nigeria from insensitive and self-serving politicians.

That we shall, in consultation with Party leadership, ethnic cultural leadership and religious leadership encourage multi-ethnic, inter-party, and inter-faith religious committees working with due consultations with the Government and our senior citizens, mobilize Nigerians at home and abroad for a quick resolution and create a new Nigeria where all men have sense of nationhood and equal ownership.
That the immediate tasks ahead are highlighted below:
Setting out framework for national, regional, and international operations 

Commencing online recruitment and registration of members, players and promoters as well as establishing of Project Quarters in Nigeria, Africa, Europe, North America etc.

Delivering letters of invitations to call to duty the former Heads of State.

Announcing 

Coordinating Peace Bodies

for Nigeria,

North America, Europe, and Asia to create a rallying point for Nigerians, create a leadership vehicle and enable all interest groups discuss how Nigeria can stabilise.

Publishing names of people in the various countries and set up a platform for the peace and survival of the Nigerian Nation.

Firming up the List of Leaders of Conscience for continuous engagement and for strategic programmes.

Various meetings that will create roadmap for liaising with the agitators, aggressor groups, Government etc to assure dialogue and create a peace process.

Platforms to be opened for online registration of members to attend the meeting which shall be of hybrid mode of physical and virtual participations.
CONCLUSION
In view of the of the above Resolutions of the meeting, we as patriotic leaders of conscience have elected in our determined resolve to save and rescue our fatherland from a longstanding destructive political system and self-serving politicians and to build a credible political alternative to change the present negative narrative of our country and therefore shall welcome and join hands with other similar ideological groups and stakeholders, who share our mission and are committed to above resolutions and programme for the redemption, progress and prosperity of Nigeria.
This is the SAVE NIGERIA AGENDA of the Emergency Intervention Meeting of Leaders of Conscience in Nigeria as agreed today, Tuesday, 8th June 2021 in Abuja.
Thank you all!
For and on behalf of Pan Nigerian Initiative: 
igned

Rt Hon Ghali Umar Na'abba

Date: 8 June 2021

Signed

Prof Pat Utomi

Date: 8 June 2021

Signed

Dr Hakeem Baba Ahmed

Date: 8 June 2021
—————————————————————————————————————————————
Your help to our media platform will support the delivery of the independent journalism and broadcast the world needs. Support us by making any contribution. Your donation and support allows us to be completely focus, deeply investigative and independent. It also affords us the opportunity to produce more programmes online which is a platform universally utilised.
Thank you.
Please click link to make – DONATION