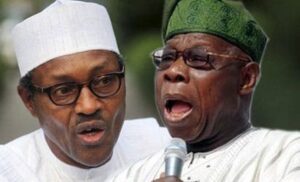 Femi Adesina, Special Adviser on Media and Publicity to the President, Major General Muhammadu Buhari (retd.), has said his principal honoured an ex-Chairman of the Christian Association of Nigeria in Plateau State, Rev Yakubu Pam, whom former President Olusegun Obasanjo called 'total idiot'.
Adesina, who stated this in a piece on Friday titled, 'The Priest And The President', compared how his principal and the former President treated religious leaders.
Buhari's aide said Obasanjo visited Yelwa-Shendam in Plateau in May 2004 during an ethno-religious crisis that led to bloodbath in the area and met with the different stakeholders.
"During the dialogue session, the then Chairman of Christian Association of Nigeria in Plateau State asked a question the President found offensive. And the Owu man, a retired Army General, flew off the handle. He let out this fusillade:
"What role have you played to bring about peace as CAN Chairman in Plateau State? CAN, my foot! What kind of CAN Chairman are you? Did your own Christianity teach you about revenge? You are an idiot. A total idiot. And I have no apologies for that," Adesina quoted Obasanjo to have said.
Adesina described as sacrilegious, the comments and reaction of the ex-President whose middle name is Matthew.
—————————————————————————————————————————————
Your help to our media platform will support the delivery of the independent journalism and broadcast the world needs. Support us by making any contribution. Your donation and support allows us to be completely focus, deeply investigative and independent. It also affords us the opportunity to produce more programmes online which is a platform universally utilised.
Thank you.
Please click link to make – DONATION