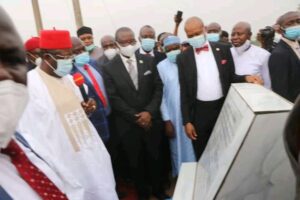 Elem Ifeanyi
Governor David Nweze Umahi on Wednesday, performed a groundbreaking ceremony for the establishment of Pharmaceutical Manufacturing Park at the Ebonyi Central Industrial Cluster in Ntezi Ishielu Local Government Area of the State.
The Governor in a statement signed by his Special Assistant, Media and Publicity, Francis Nwaze described the choice of the State for the establishment as a huge encouragement and promised to support the Pharmaceutical Manufacturing Company to achieve its target.
Earlier, the President of NAIP, Maazi Ohuabunwa congratulated Ebonyi State for being found worthy to host the establishment and expressed hope that the project when completed would spike further development of the State.
The Commissioner for Health Ebonyi State, Dr. Daniel Umezurike appreciated the NAIP for the choice of the State for the project, describing it as a true show of love.
The Chairman of Ishielu Local Government Area, Mr. Sunday Eze pledged adequate protection for the infrastructure and workers of the company when it takes off.
Others,  Professors Chimezie Anyakorah and Martins Emeje applauded the Ebonyi State Government for the donation of landed space for the project and pledged to support its realization.
The Association of Industrial Pharmacist of Nigeria earlier signed a Memorandum
of Understanding with the State Government for the establishment of the Pharmaceutical Manufacturing hub at Ntezi.
At the event, Governor Umahi harped on speedy execution of the project, noting that the contract will be terminated in the event of a long wait for its take off.
The Government also signed a Memorandum of Understanding with the G-NXT Limited for the production of limestone granule and cement at Okpoto in Ishielu Local Government Area of the State.
The Commissioner for Commerce and Industry Professor Ogbonnaya Chukwu said laboratory analysis of the Ebonyi limestone has been certified to be the best in Nigeria.
Governor Umahi while observing that limestone granule is an essential raw material for the production of fertilizers, pledged to support them to succeed.
He said competitive bidding by indigenous investors would soon be carried out to ensure a smooth take off of the project.
—————————————————————————————————————————————
Your help to our media platform will support the delivery of the independent journalism and broadcast the world needs. Support us by making any contribution. Your donation and support allows us to be completely focus, deeply investigative and independent. It also affords us the opportunity to produce more programmes online which is a platform universally utilised.
Thank you.
Please click link to make – DONATION