The Independent National Electoral Commission (INEC) was established by the 1999 Constitution of the Federal Republic of Nigeria to among other things organize elections into various political offices in the country.
The functions of INEC as contained in Section 15, Part 1 of the Third Schedule of the 1999 Constitution (As Amended) and Section 2 of the Electoral Act 2010 (As Amended) include the following:
Organise, undertake and supervise all elections to the offices of the President and Vice-President, the Governor and Deputy Governor of a State, and to the membership of the Senate, the House of Representatives and the House of Assembly of each state of the federation;
Register political parties  in accordance with the provisions of the constitution and Act of the National Assembly;
Monitor the organization and operation of the political parties, including their finances; conventions, congresses and party primaries.
Arrange for the annual examination and auditing of the funds and accounts of political parties, and publish a report on such examination and audit for public information;
Arrange and conduct the registration of persons qualified to vote and prepare, maintain and revise the register of voters for the purpose of any election under this constitution;
Monitor political campaigns and provide rules and regulations which shall govern the political parties;
Conduct voter and civic education;
Promote knowledge of sound democratic election processes; and
Conduct any referendum required to be conducted pursuant to the provision of the 1999 Constitution or any other law or Act of the National Assembly.
Calendar and itinerary for 2022 in Nigeria – as added by Dr. Flavour.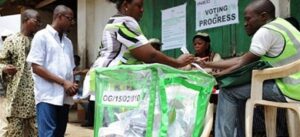 1. January : 1-31
2. February : 1-28
3. March : INEC give guideline for aspirants, candidates, parties in respect of congress, primary election and campaign.
4. April : Campaign for presidential and gubernatorial election.
5. May: Party congresses.
6. June: Primary Election.
7. July : Petitions on primary election.
8. August: Court of Appeal hearing on primary election conducted.
9. September: Supreme court verdict on all primary election candidates & winners for presidential & gubernatorial flag bearer of parties contesting.
10. October: Aggressive campaign of candidates across the federation.
11. November:- Campaign continues.
12. December: Peace Accord signed by all presidential and gubernatorial candidates.
The duty is down to the voters, to make sure they do not sell their political rights.
Get registered to vote: keep your voting card safe: go out and vote on the voting day: protects your vote and finally support the legal and rightful winner 🥇.
For more information on political parties, please visit https://www.nigeriaelectoralregister.com
—————————————————————————————————————————————
Your help to our media platform will support the delivery of the independent journalism and broadcast the world needs. Support us by making any contribution. Your donation and support allows us to be completely focus, deeply investigative and independent. It also affords us the opportunity to produce more programmes online which is a platform universally utilised.
Thank you.
Please click link to make – DONATION