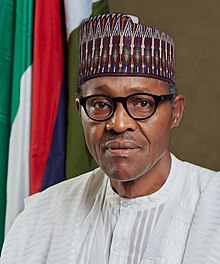 The President, Major General Muhammadu Buhari (retd.), on Tuesday, justified the decision of his regime to construct a rail line linking Nigeria with the Niger Republic despite criticisms that trailed the announcement of the plan.
He said connecting Niger Republic through rail would, among other benefits, foster trans-Sahara trade and contribute to the expected gains in the African Continental Free Trade Area Agreement.
Buhari gave the justification while virtually presiding over the ground-breaking for the commencement of the rail line from the Presidential Villa, Abuja.
The rail line is known as Kano-Katsina-Jibiya-Maradi (Niger Republic) rail line with a branch line from Kano.
Describing the rail line as "another vital transportation infrastructure," Buhari noted that it traverses the major commercial and administrative centre of Kano and passes through other economic hubs of the country including Kazaure, Daura, Katsina and up to the border town of Jibiya and the Niger Republic city of Maradi.
According to the President, the cities of Jibiya and Maradi constitute a significant trading core between Nigeria and the Niger Republic, adding that the tradition dated back many centuries.
Buhari said, "This vital infrastructure line will establish an end-to-end logistic supply chain in railway transport services between Northern and Southern regions of the country, reaching Nigerian southern ports of Lagos and Warri.
"The entire route encompasses territory inhabited by close to 80 million people across 10 states of the country. This project has a branch line to Dutse the capital of Jigawa State to open up this corridor which is endowed with vast resources.
"The Kano – Maradi rail line has been identified as a viable line that will significantly enhance the movement of passengers and freight to the hinterland especially raw materials from both agricultural and mineral resources for our industries.
"The project, when completed, would serve import and export of goods for the Niger Republic and other countries in the sub-region through Nigerian ports. The country would earn revenue through expansion of trade and commerce, while the people of the Niger Republic will benefit from the ease of transportation logistics at an affordable cost in their import and export business.
"The connection to the Niger Republic through rail will also foster trans-Sahara trade and contribute to the expected gains in the African Continental Free Trade Area Agreement."
—————————————————————————————————————————————
Your help to our media platform will support the delivery of the independent journalism and broadcast the world needs. Support us by making any contribution. Your donation and support allows us to be completely focus, deeply investigative and independent. It also affords us the opportunity to produce more programmes online which is a platform universally utilised.
Thank you.
Please click link to make – DONATION