Shaun Bailey's 32-hour tour of London has shown how his plan for London will impact every single Londoner's life. London needs a mayor who will work for every borough, listen to them and tackle the issues they face.
The Prime Minister, a former mayor of London himself knows the power of the mayor, and how Sadiq Khan has wasted those powers. Boris has emphasised how "enthused" he is at the prospect of working with Shaun Bailey as mayor of London.
Shaun Bailey and Boris Johnson have criticised Sadiq Khan's 5 years of failure as mayor of London.
During this time Sadiq Khan has focused on virtue-signalling rather than working with the government and now is hiking taxes on Londoners to pay for his financial mismanagement.
TfL was bankrupted by Sadiq Khan to the tune of £9.56 billion and now Sadiq Khan's 4 tax increases are threatening to cost London £4.68 billion, just as London needs to recover from the pandemic.
The bottom line is that London needs a fresh start.
Shaun Bailey's journey across London demonstrated how his plan for a fresh start will change Londoners' lives.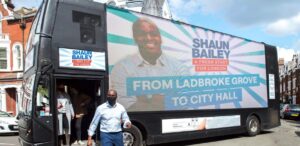 Shaun's bus visited the Queen Elizabeth Hospital, and heard firsthand from the frontline workers about how the ULEZ charge hurts their wallets.
Shaun Bailey has pledged to roll back Sadiq's hikes to the ULEZ, the congestion charge, council tax and the Outer London tax.
In Lewisham, Shaun met with local residents to discuss how Sadiq Khan's failures on infrastructure have held back the local area's development.
From the Bakerloo line extension in Lewisham to Hammersmith Bridge and Crossrail 2, Sadiq Khan's failures to deliver on infrastructure risk London's recovery from COVID.
Shaun Bailey will create the London infrastructure bank. As well as creating 720,000 jobs the London infrastructure bank will finally break Sadiq Khan's City Hall deadlock and kickstart London's recovery.
The domestic tourism industry supports 266,000 jobs and is worth £12.6 billion. It is simply unacceptable that Sadiq Khan is gambling with this vital part of London's economy.
Shaun Bailey, Conservative Candidate for London Mayor, said:
"The pandemic has caused more job losses in London than any other region of the UK. So to build back better, we need a mayor who works with the government to secure investment.
That's why we can't afford three more years of a mayor who attacks ministers from the sidelines while planning to introduce four new taxes — a £4.68 billion tax grab that will hit every Londoner.
As mayor, I'll deliver the fresh start London needs. And I'll deliver it by working with the Prime Minister to kickstart our recovery and build a safer, fairer, more affordable city.
So on 6 May, Londoners should vote for the candidate who will work with the government to secure a better deal for London."
Boris Johnson, the Prime Minister, said:
"As we emerge from the pandemic, our task is to build back better. And Shaun Bailey has the experience, skills and determination to do this for London.
That's why I'm backing Shaun to be the next Mayor of London. He has a plan to cut crime, fix London's transport network, get people on the housing ladder, and lower the cost of living.
I ask Londoners to join me in voting for Shaun Bailey on 6 May. And I look forward to working with him as he delivers the fresh start London needs."
—————————————————————————————————————————————
Your help to our media platform will support the delivery of the independent journalism and broadcast the world needs. Support us by making any contribution. Your donation and support allows us to be completely focus, deeply investigative and independent. It also affords us the opportunity to produce more programmes online which is a platform universally utilised.
Thank you.
Please click link to make – DONATION