Ahead of the biggest church in recent days and years and the number one in term of women's empowerment in a dominated field, to be commissioned and opened is this inspirational church building put together by Reverend Esther Ajayi of Love of Christ Generation Church C&S Cathedral.
The new glittering building is a masterpiece, exhibited skills and a top architectural edifice in Nigeria to be precise in Victoria Island, Lagos. This magnificent constructed all techno-church has a capacity for about 10,000 people within the main complex.
When it comes to philanthropic work in the black world, Rev Esther Ajayi name is top in ranking among those that have done so much yet, so little heard about her. Giving and loving is her mantra, hence nothing was spared to make this uniquely crafted building for the glory, worship and coming together of brethren and sisters in the Lord. The church building gulped billions to the excitements and marvels of those who have visited the place so far. Lagos is known for its lack of land, but to secure three acres of land which was constructed by CAPPA and D'ALBERTO, showed the dedication and commitment of the Revered in changing the path of faith and belief in the country.
For the people and members, the complex has in its three-story and surrounding a clinic to cater for wellbeing and any emergency treatment, a gym, sport facilities and swimming pool.
"In this place, we have a gym in the sporting area, we have the printing press room, we have sewing room to empower people into tailoring, we have a clinic in case those who have come here to worship want to deliver a baby or have other health challenges there will be nurses and doctors to attend to them.
We have a swimming pool for people who want to learn how to swim. We have an event centre for ceremonies that can accommodate about 3000 people. All our facilities are free for members." Added Reverend Mother as she is fondly called.
On the count-down to the opening ceremony of the church, a three-time Head of State and President of Nigeria Dr. Chief Olusegun Obasanjo paid a visit to see the place at Water Corporation Drive, Off Ligali Ayorinde Street, (after Landmark Tower) Victoria Island, Lagos and was took around on a tour of the beautifully adorning and magnificent building by the Founder, Revered Mother Esther Ajayi.
Visitors that have been there so far includes Lagos State, Governor Babajide Sanwo-Olu, Chief Razaq Okoya and his lovely wife Shade, Chief Samuel Adedoyin, prominent religious leaders, traditional rulers and Captains of industry. They have being coming to commends her contribution to the nation and all took turns to see for themselves the new spiritual edifice which sits at the heart of Nigeria's commercial and populous city.
As it is said, all roads local, national and international leads to Love Of Christ Generation Church C&S Cathedral official commissioning on 5th September (Next Sunday), 2021.
Speaking on the occasion, Revered Mother said, "Building churches is part of evangelism because there must be a place to gather and worship the creator of the universe, the scriptures reveal in the book of Hebrews Chapter 10:25, "And let us not neglect our meeting together, as some people do, but encourage one another, more as you see the Day drawing near. We must meet somewhere to call on His name because faith comes by hearing and by hearing only the word of God."
The Esther Ajayi foundation has been working on the road around the church area in support of her work in the area.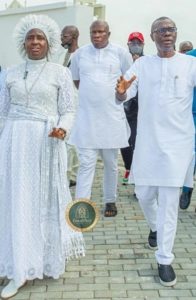 Expected dignitaries includes, The Governor of Lagos State, Mr. Babajide Sanwo-Olu,
The former President Chief Olusegun Obasanjo;
The Oni of Ife, Oba Adeyeye Ogunwusi, Ojaja 2;
from the Christian faith are The General Overseer of Redeemed Christian Church of God, Pastor Pa and Mrs. Enoch Adeboye; the Founder of Mountain of Fire and Ministries (MFM), Dr. Daniel Olukoya, the National President of Christian Association Nigeria, Supo Ayokunle, the Head of Celestial Church of Christ (CCC) Mobiyina Oshoffa, the Head of Cherubim and Seraphim Church (C&S), Pa Ajao and among others from across the world.
This indeed is classified as Africa's biggest church by a woman and the newest post covid 19 in that part of the world.
—————————————————————————————————————————————
Your help to our media platform will support the delivery of the independent journalism and broadcast the world needs. Support us by making any contribution. Your donation and support allows us to be completely focus, deeply investigative and independent. It also affords us the opportunity to produce more programmes online which is a platform universally utilised.
Thank you.
Please click link to make – DONATION