A global focused foundation with based in the country has released and shared their latest forecast on the Nigeria's 2023 elections.
THE MISSION OF THE FOUNDATION IS: TO PROMOTE GOOD GOVERNANCE.
"Sustained success is largely a matter of focusing regularly on the right THINGS and making a lot of uncelebrated little improvements every day"
Theodore Levitt
"Our lives begin to end the minute we become silent about things that matter"
Martin Luther King
The foundation earlier today during an Arise Television programme in which one of the Founding executives appeared indicated
That the Labour Party Presidential Candidate Mr. Peter Obi will win the 2023 election.
These polls were conducted in this month of September 2022.
The polls carried out on the streets, roads and various locations in the country showed 21 percents goes to Peter Obi, 13 percents to both Alhaji Atiku Abubakar of the PDP and Senator Bola Ahmed Tinubu of the APC while 3 percents goes to Senator Rabiu Kwankwaso of the NNPP.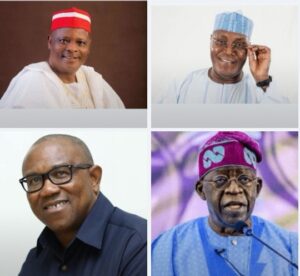 Mr. Atedo Peterside, Chairman, ANAP Foundation represented and gave the analysis on the Arise TV Channel
More details soon.
Contributors MC Alistair, Emeka and BEN
—————————————————————————————————————————————
Your help to our media platform will support the delivery of the independent journalism and broadcast the world needs. Support us by making any contribution. Your donation and support allows us to be completely focus, deeply investigative and independent. It also affords us the opportunity to produce more programmes online which is a platform universally utilised.
Thank you.
Please click link to make – DONATION