LAGOS STATE INFORMATION COMMISSIONER IN LONDON , SAYS SANWO-OLU ADMINISTRATION HAS DONE CREDITABLY WELL .
The Governor Babajide Sanwo-Olu administration has matched words with achievements as far as governance is concerned in the state in the past 3 years and therefore his administration deserved 2nd term in office in the 2023 election for the benefit of Lagosians home and abroad.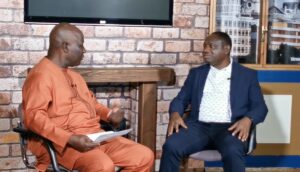 The State Commissioner for Information and strategy , Mr Gbenga Omotoso stated this in London on Friday as a guest on a BEN Television UK special Focus on Lagos State, which featured on the activities and achievements of G0V. Babajide Sanwo-Olu administration in Lagos state .
Mr Omotoso maintained that despite all the challenges that faced the administration, if has been able to achieved an unprecedented achievements as per implementation of THEMES Agenda and other lofty programmes and projects that the administration promised Lagosians over three years ago .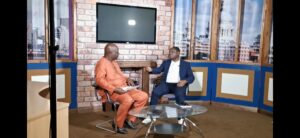 Speaking further on Governor Babajide Sanwo-Olu administration giant strides in curtailing the covid-19 pandemic in the state. Mr Gbenga Omotoso said, Nigerians and Lagosians home and abroad will not forget in a hurry the gallant performance of Lagos state Governor on the efforts deployed in managing the outbrake in the state, while many has written off lagos state due to its high population while high death were recorded even in the European countries who had better medical equipments. Governor Sanwo-Olu was able to lead a formidable team that curtailed what would have been a devastated catastrophe in the state.
In the area of infrastructural development in the state, The State Information Commissioner, Mr Gbenga Omotoso told BEN Television UK interviewer that  Sanwo-Olu administration has built over 51 roads and rehabilitated 632 others, such as Pen Cinema fly over, Ramp and road networks, Lagos – ogun boundary roads, phase 2 – Lekki Oniru traffic circulation, projects of networks of roads in ojokoro , Somolu and Ikoyi among others.
He said Sanwo-Olu administration has also constructed and rehabilitated 301 inner roads in the 20 local government areas and 37 local council development areas LCDAS.
While the administration also commissioned the Oshodi – Abule Egba BRT LANE, The Eleko junction, Epe concrete pavement road construction is ongoing,  many other roads projects and over 16 differents Housing projects, completed and commissioned by the administration were executed to bring great life, succour and comfort to the people of Lagos state .
Mr Omotoso also said in affirmative on the international TV programme that in view of all these unprecedented achievements, Sanwo-Olu administration will win its 2nd term in office in 2023 election in the state under the umbrella of rulling party APC and therefore urged Lagosians home and abroad to join hands in reciprocating Governor Babajide Sanwo-Olu administration purposeful government .
More of the international media chats with Mr Gbenga Omotoso on Ben TV in London could be watched on www.bentelevision.com and on Sky 182 Channel 7 for viewers in Europe and Caribbean.
—————————————————————————————————————————————
Your help to our media platform will support the delivery of the independent journalism and broadcast the world needs. Support us by making any contribution. Your donation and support allows us to be completely focus, deeply investigative and independent. It also affords us the opportunity to produce more programmes online which is a platform universally utilised.
Thank you.
Please click link to make – DONATION