Wura-Ola Replaces Jere As Acting Immigration CG promises to open new offices.
The Civil Defense, Correctional, Fire and Immigration Services Board has appointed Deputy Comptroller General of Immigration, Adepoju Carol Wura-Ola, as the acting Comptroller General of Immigration.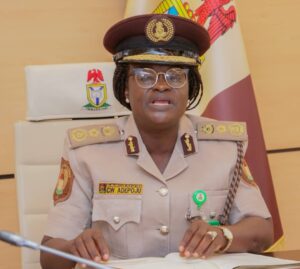 Ms. Wura-Ola would be replacing CG Isah Jere who's tenure of office expired with the last administration in April and was extended by the immediate past president, Major General Muhammadu Buhari (retd).
A letter sighted from the board dated May 26, 2023, and signed by Jaafaru Ahmed, the Secretary, announced Ms. Wura-Ola as the acting CG with immediate effect.
Tagged, "Letter of approval to cover duties of the office of the Comptroller-General, Nigeria Immigration", It partly read, "I write to convey the approval of the Chairman of the Board for you to cover duties of the Office of the Comptroller General, Nigeria Immigration Service as the most senior Deputy Comptroller General. This instruction takes effect from Tuesday, May 30, 2023.
"You are enjoined to bring to bear your wealth of experience on the job as well as Consolidate on the ongoing transformation of the Service."
The Federal Government in 2021 had about 12 executives ACGs/DCGs to replace the then Comptroller-General of Immigration Service CG Muhammad Babandede.
Ms Wuraola Adepoju was one of those being considered for the position.
Also and very important according to a statement today in Abuja, Mr. Tony Akuneme, Comptroller, Media and Publicity of the NIS, disclosed that the Acting Comptroller General of the Nigeria Immigration Service NIS, Caroline Wuraola Adepoju said the NIS Service would soon open more passport front offices.
She immediately moved into action after taking over from Mr. Isa Idris Jere, the immediate past Comptroller General of Immigration.
The statement reads:-
"She announced that a stakeholders meeting will be convened in the next few days to x-Ray the real issues in the passport process and to proffer far-reaching solutions, which will include opening more front offices in the Lagos area where the bulk of the complaints emanated from.
"The Ag. CGIS equally said she will adopt a bottom-top approach in tackling officers' welfare and will start by meeting all cadres of staff to hear their genuine needs in a bid to hit the ground running with a blueprint that will be based on an all-inclusive needs assessment.
"It would be recalled that Mrs Adepoju had served in various locations during her career in the NIS, the high point of which was her appointment as Deputy Comptroller General in charge of Finance, a position she occupied before her present appointment"
PR
—————————————————————————————————————————————
Your help to our media platform will support the delivery of the independent journalism and broadcast the world needs. Support us by making any contribution. Your donation and support allows us to be completely focus, deeply investigative and independent. It also affords us the opportunity to produce more programmes online which is a platform universally utilised.
Thank you.
Please click link to make – DONATION