By Festus Fifen.
Aggrieved workers of the Nigerian Upstream Petroleum Regulatory Commission ( NUPRC) formerly Department of Petroleum Resources (DPR) today picketed and barricaded the Commission, to demand the immediate sack of the Chief Executive, Engr. Gbenga Komolafe over alleged fraud and abuse of office.
This is coming as part of their demand on day 2 of the protest Following the expiration of a 24-hour ultimatum given to the management of the Agency.
The protesting staff dressed in black and red attire, in their numbers besieged and placed a casket bearing 'RIP Fraud' at the main entrance to the NUPRC complex, at Idris Ibrahim Crescent, off the major road leading to Lifecamp/Wuse axis in Jabi, Abuja.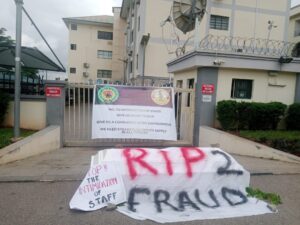 Also, they chanted "Komolafe must go", for allegedly deliberately reframing from opening channels of communication to address concerns about manifest mismanagement of the commission and poor employees welfare through the two years of his stewardship.
They also called on President Bola Tinubu to sack Komolafe or order him to resign, to pave way for an urgent unrestrained forensic audit of all contract processes and payments by the commission under his watch.
National Treasurer, Petroleum and Natural Gas Senior Staff Association of Nigeria, (PENGASSAN), Comrade Owan David, who joined the protest, reiterated that despite effort to resolve burning issues threatening wellbeing of the Commission and industry at large, the Komolafe's led NUPRC had paid a deaf ear to them, leaving the staff union with no option, other than peaceful protest, to register their grievances.
He however, warned that if nothing was done to address the situation, workers through the instrumentality of the union will not hesitate to withdraw from their duty posts nationwide, and mobilize to join the protest in Abuja, until the authorities take necessary
action to save the commission from total collapse.
Earlier, branch Chairman of the NUPRC workers' union, Comrade Okechukwu Anya, decried that the embattled management instead of urgently engaging and addressing their grievances, had resulted to intimidating the staff union leaders for speaking up and asking for improved working conditions at the commission.
Anya disclosed that NUPRC under Komolafe, has recorded depths of corruption, staff neglect, sexual
harassment, and gross mismanagement of its funds.
He added that appalling neglect of staff welfare is highlighted by the commission's inability to cover medical services for staff due to
heavy unpaid debts, non-payment of statutory group life insurance and pension claims, and chronic underpayment of staff entitlements.
According to him, the NUPRC has been turned into a hotbed of favouritism and patronage, with the recruitment of over 140 individuals, without proper procedures and in violation of the Federal Public Service rules and the Federal Character Commission's policies on equal opportunities.
In a long outlined alleged fraudulent activities of the NUPRC boss, the workers' union states: "Our investigation reveals that Engr. Gbenga has utilized his position to
continually exploit the commission's coffers to satisfy his personal interests.
"His flagrant disregard for the plight of his staff and the well-being
of the nation is nothing short of scandalous deserving of an urgent
unrestrained forensic audit of all contract processes and payments.
"Top on the list of his nefarious activities is the shameful non-payment of gratuities to staff who retired in 2022. Despite numerous pleas from these retirees and securing virement of about 10 billion Naira from the National Assembly intended to cover these payments, he instead
misappropriated these funds, donating an astonishing 4 billion Naira to political parties in the run-up to elections, in a blatant bid to retain his position and squandering the rest.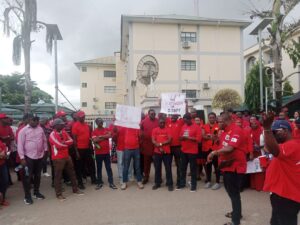 " Gbenga and the
Commission's Board Secretary, Mrs. Anyanechi Olayemi, are implicated in multiple instances of financial racketeering, using inflated contracts to
legal firms to siphon corporate and collective funds from the commission, amounting to over 1 billion Naira in 2023 alone.
"Despite the commission's technical mandate, Gbenga and his cronies have wasted a staggering 900 million Naira on dubious 'sensitization workshops', a further 500 million Naira on office renovations and furniture
procurement, and an unconscionable 1.5 billion Naira on luxury transportation including private jet travel and first-class flights, in violation
of presidential directives.
"In addition to these issues, the NUPRC under Gbenga is mired in
infrastructural deficiencies and a decline in crude oil production,
plunging from a daily production of 1.672M bopd in 2021 to a worrying
average of 1.452M bopd. This decline speaks volumes about the
mismanagement and incompetence of the NUPRC under Gbenga's leadership.
"This report represents the latest in a long line of scandals tied to the
leadership of Engr. Komolafe Gbenga. It is high time for thorough scrutiny, forensic audit of the Commission and decisive action to end these outrageous abuses of power. The employees of the NUPRC and the people of Nigeria deserve better. The question that remains: will the authorities take action?".
Meanwhile, when contacted for reaction, Head, Public Affairs Unit (PAU), of the commission, Adamu Garba, who declined commenting on the matter, as he was on leave.
Garba, when pressed on to comment, insisted that he was not in the know of the development, stressing that he had embarked on the leave for about a month period, however offered to provide the contact of his deputy, Carol Chika, who should be in a better position to react to such request, aimed at balancing this report.
But, NUPRC's head of PAU, as of the time of filling this report, failed to provide his deputy's contact.
—————————————————————————————————————————————
Your help to our media platform will support the delivery of the independent journalism and broadcast the world needs. Support us by making any contribution. Your donation and support allows us to be completely focus, deeply investigative and independent. It also affords us the opportunity to produce more programmes online which is a platform universally utilised.
Thank you.
Please click link to make – DONATION