Chairman of the House committee on HIV/AIDS, Tuberculosis, Leprosy and malaria control and Member Representing Isuikwuato/ Umunneochi Federal Constituency, Hon. Amobi Ogah says the National Assembly with the specific support of the Members of the Joint Committees on Health of the 10th National Assembly will ensure increase in the Budgetary allocation to Universal Health Coverage and its counterpart funding as the case may be to bring improvement in the financial challenges faced by the system.
Hon. Amobi stated this today at a strategic retreat of the principal officers of the National Assembly for the development of the legislative health agenda in Abuja.
He noted that the Legislative Arm of Government with the commitment of the Members of the Joint Committee on Health of the 10th National Assembly will intensify Oversight function on the Agencies/Programme to ensure commensuration between provided Legislative allocated funds and project implementation to check wastages.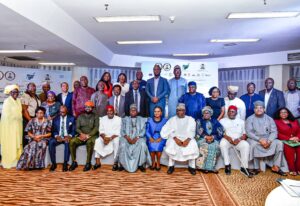 According to him "The Legislative Oversight of the National Assembly as provided in its mandate will be exercised judiciously to ensure strict compliance of enfolding programmes with the provisions of the legislative reforms and the subsequent laid down policies.
"We the joint Health Committee Members of the 10th National Assembly are giving the general public the assurance that, we will do our best to bring meaningful improvement on the security and coverage of the Universal Health Coverage (UHC). We will put into practice all we were reminded to the provision of suitable legislation for a legal framework that will bring meaningful reforms on our policies towards achieving universal health coverage and security in Nigeria".
—————————————————————————————————————————————
Your help to our media platform will support the delivery of the independent journalism and broadcast the world needs. Support us by making any contribution. Your donation and support allows us to be completely focus, deeply investigative and independent. It also affords us the opportunity to produce more programmes online which is a platform universally utilised.
Thank you.
Please click link to make – DONATION