UK APPOINTS NEW TRADE COMMISSIONER TO LEAD UK-AFRICA TRADE AND INVESTMENT RELATIONSHIP
John Humphrey has been appointed as Her Majesty's Trade Commissioner (HMTC) to Africa  
With an economy worth $2.4trillion, Africa offers huge potential for UK businesses across sectors including clean energy and sustainable infrastructure  
Humphrey joins team of 9 Trade Commissioners promoting Global Britain across the world and encouraging UK trade and investment  
International Trade Secretary Anne-Marie Trevelyan today [23 June] appointed John Humphrey as Her Majesty's Trade Commissioner (HMTC) to Africa. The appointment comes as the Prime Minister attends the Commonwealth Heads of Government Meeting (CHOGM) this week to further strengthen ties with Commonwealth nations – 19 of which are in Africa.
HMTCs work closely with Ambassadors, High Commissioners and the wider diplomatic network to promote UK trade and prosperity in their region.  
As the new Trade Commissioner for Africa, John will generate business opportunities for the UK while contributing to the growth of sustainable, resilient, and productive economies across the African continent. 
Prior to joining the Department for International Trade, John held a variety of commercial, general management and executive roles in the UK and overseas, most recently as Group Chief Executive at Kent HoldCo Limited and as Chief Executive & Accounting Officer of the UK Hydrographic Office (a Ministry of Defence Trading Fund). He is also a Lay Trustee of the Royal College of Speech and Language Therapy.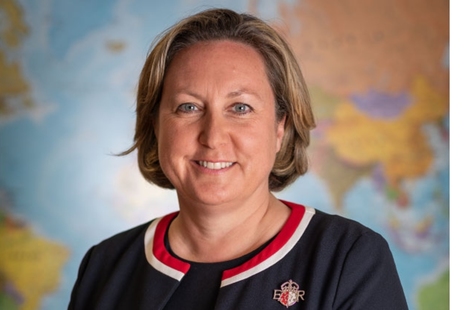 International Trade Secretary Anne-Marie Trevelyan said: 
"I am delighted to announce the appointment of John Humphrey as the new Trade Commissioner for Africa, joining our international network of HMTCs across the globe.  
"John will be an asset to DIT in Africa; championing Global Britain and helping UK businesses to succeed in new markets, from Tunisia to Tanzania, Senegal to South Africa." 
With a growing population and economy worth $2.4 trillion, a thriving trade and investment relationship between the UK and Africa presents huge opportunities across a variety of sectors including tech, transport, clean energy, sustainable infrastructure and Agri-Tech. 
John Humphrey, HM Trade Commissioner for Africa, said:  
"It is a great honour and hugely exciting to be appointed as Her Majesty's Trade Commissioner (HMTC) for Africa. Africa is a diverse, vibrant, innovative and abundant continent that is home to over 1.3 billion, mainly young, people and accounts for 20% of the world's land mass.  
"As someone who spent my most memorable childhood years in Africa, I am thrilled to have the opportunity to continue the Department for International Trade's vital work enabling British businesses and investors to discover this remarkable continent and to generate long-term, mutually prosperous relationships."
—————————————————————————————————————————————
Your help to our media platform will support the delivery of the independent journalism and broadcast the world needs. Support us by making any contribution. Your donation and support allows us to be completely focus, deeply investigative and independent. It also affords us the opportunity to produce more programmes online which is a platform universally utilised.
Thank you.
Please click link to make – DONATION