A tweet just started trending about…..
A group of French citizens caught on camera urinating on a Malian citizen in her village after Mali expelled the French Ambassador, Joël Meyer, over what they called "outrageous" comments he made about the transitional government.
Comments such as – imagine this, amid the atrocities being committing against Malians in Mali by the government of France!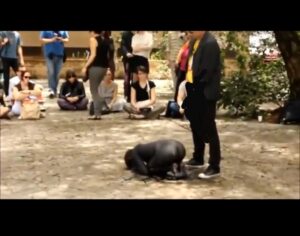 In this day and age Africans must make sure the rights treatments and policies are implemented.
The other story to the video as found by our team is below…
Piedra by Regina José Galindo
LILIAN MENGESHA | BROWN UNIVERSITY
Piedra. Regina José Galindo. Performed by artist. Universidade de São Paulo, São Paulo, Brazil. 17 January 2013.
The misleadingly petite frame of a woman covered in black coal strolled out onto a shaded patio and curled into a lump on the hard ground. As she crouched down and rounded out her back, her knees and elbows hugging against her ribs, an assistant finished covering the last bit of visible skin on the soles of her feet. Now entirely covered in coal, the body of performance artist Regina José Galindo froze with her face buried in the palm of her hands.
Full website link 🔗
https://hemisphericinstitute.org/en/emisferica-102/10-2-review-essays/piedra.html
—————————————————————————————————————————————
Your help to our media platform will support the delivery of the independent journalism and broadcast the world needs. Support us by making any contribution. Your donation and support allows us to be completely focus, deeply investigative and independent. It also affords us the opportunity to produce more programmes online which is a platform universally utilised.
Thank you.
Please click link to make – DONATION