———————-
Looking to give your virtual background a real-life makeover? Stay with this new hotel in town and escape for a day, week, or take an extended family workcation. They have put together special custom hotel packages that will help you get the most out of your work (and play) in Lagos Nigeria.
Why work from home when you can work anywhere with Marriott Ikeja, Lagos?
Say goodbye to lackluster Wi-Fi and your make-shift kitchen table desk for the day. Find your focus in a quiet guest room and escape the daily distractions that come with doing your work at home.
It is with this hospitality experience that brings the finest to Nigeria which had already seen the Governor of state paying a visit.
The newest hotel in Lagos is the Marriott Ikeja delivering a top rated premium hospitality service for those personalities and lover of beautiful lifestyles.
This new venue and place will be come to life and opening to the public from May 19th, 2021.
When it comes the class and taste, the management of this unique and high quality hotel shy not.
The hotel comes with 250 bed, 5<star rate at cost of more N45 billion, (more than $100 mil) in GRA, Ikeja.
The executives led by Nigeria's best venture capitalist and business gurus found worthy partners in Marriott International, SIFAX Group, a conglomerate with investments in various sectors of Nigeria's economy and beyond to established this new service expanding the coast of Nigeria internationally.
The hotel has 11 floors with all latest  modern facilities like exclusive crew lounge, 1000 capacity ballroom, VIP lounge, enough car parks, well-equipped sporting gym, local and continental dishes, finest menu etc.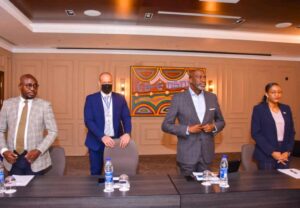 Speaking on the new baby, Janse Van Rensburh, the GM said, "Every client of Lagos Marriott Hotel is set for an unimaginable premium experience like never before. We assure them of world-class hospitality, super customer satisfaction and royalty treatment. Frequent travelers who have points using the Marriott hotel franchise globally can also redeem their points here in Nigeria too. We have an in-club system for our premium members located on the first floor of the hotel.
"The unique selling propositions of this hotel are the various amazing products we offer our clients which are non-existent in the country's hospitality industry. The security of our guests is very paramount to us and that's why every door and window in the facility is bomb-proof. Our pricing is also very commensurate with the quality that we offer."
The MD Mac Folly Hospitality company Hon. Chike Ogeah, of the SIFAX Group's subsidiary, commended the Group Executive Vice Chairman for investing the fund needed to bring the hotel to life.
He said: "The building of this hotel took us six years. We took our time to tastefully select all the materials and equipment that were used in order to serve our clients the best. As a man that has travelled all over the world and experienced first-hand hospitality at its peak, our Chairman, Dr. Taiwo Afolabi, decided to build this hotel in Nigeria in order to promote the hospitality and tourism industry in Lagos and provide opportunities to further improve the economy.
We wish them success.
—————————————————————————————————————————————
Your help to our media platform will support the delivery of the independent journalism and broadcast the world needs. Support us by making any contribution. Your donation and support allows us to be completely focus, deeply investigative and independent. It also affords us the opportunity to produce more programmes online which is a platform universally utilised.
Thank you.
Please click link to make – DONATION