SIFAX Group Bags Prestige Excellence Award.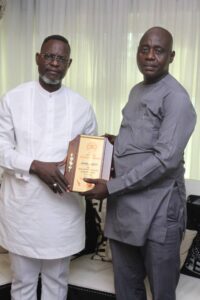 SIFAX Group has received 2020 Prestige Excellence Award as Most Outstanding Company of the year in Maritime Industry
It would be recalled that 4th Prestige Excellence Award and Lecture was held in Lagos Sunday November 29, 2020.
The award is instituted to recognise and appreciate deserving individuals, corporate entities and professional institutions that have made remarkable impact in our society.
The award is the brainchild of Prestige International Magazine and Prestige Online Published by Timmary Communications.
Prestige media group is dedicated to extolling the virtues of hard work, ingenuity, integrity and uncommon achievements in service to humanity.
SIFAX Group is a group of companies with investment in Maritime, Aviation, Oil & Gas, Haulage & Logistics, Financial Services and Hospitality.
The company has built a reputation of excellent service delivery anchored on the foundation of competent workforce, world-class services, consumer-centric philosophy, tailor-made business solutions and modern equipment deployment.
The consumer-centric philosophy compels the company to put the customers and their best interest at the centre of its operations.
SIFAX group constantly review its processes and innovate in order to meet the dynamic and unique need of each customer.
From port terminal operations to freight handling, haulage and logistics, warehousing, related logistics intermediary services, and other non- logistics services like hospitality and oil & gas, SIFAX Group has developed the capacity to satisfy different categories of customers.
Every time SIFAX handles any business for customers, DELIVERING BEST VALUE is ultimate goal.
The company, which began operations as SIFAX Nigeria Limited in 1988, started as a freight forwarding agency in Lagos, Nigeria.
Services rendered at its inception included freight forwarding, haulage and warehousing operations, as well as adjunct import and export support services.
—————————————————————————————————————————————
Your help to our media platform will support the delivery of the independent journalism and broadcast the world needs. Support us by making any contribution. Your donation and support allows us to be completely focus, deeply investigative and independent. It also affords us the opportunity to produce more programmes online which is a platform universally utilised.
Thank you.
Please click link to make – DONATION