Rev. Mother Esther Ajayi set to launch the architectural masterpiece Love of Christ Generation Church in Victoria Island, Lagos.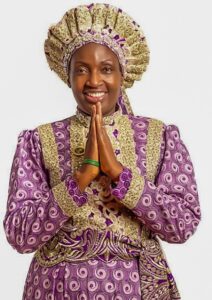 The headquarters of the LOVE OF CHRIST GENERATION CHURCH worldwide, and the ESTHER AJAYI FOUNDATION are both set to be launched in Victoria Island , Lagos this year.The magnificent House of God located on the beach front of Victoria Island after Land Mark Towers Water Corporation Drive, Off Ligali Ayorinde street, Victoria Island Lagos is the first of its kind in Nigeria and a breathtaking sight to behold.The architectural masterpiece was built to International standards by the famous Italian construction giant CAPPA & D'ALBERTO, complete with state-of the-art facilities.Speaking about the milestone, the General Overseer of the church, a philanthropist and humanitarian, Reverend Mother Abimbola Esther Ajayi enthused;"I'm certain you will be very proud of our efforts and share the declaration of King David that, "This is the LORD 's doing; It is marvellous in our eyes. (Psalm 118:23 KJV) "Continuing, the amiable and benevolent woman of God said she could not wait to personally welcome everyone to the official opening of the church on September 5, 2021,this year. According to her, "this edifice is a testimony to the Awesome Powers of our Good Lord and I want you to come and celebrate with many of our friends from all over the world."Assuring everything possible would be done to make guests very safe and comfortable, Rev. Mother Ajayi thanked God for the achievement to whom she offered all the glory and prayed the Good Lord to reward abundantly the acts of love and kindness of everyone who one way or the other labored therein to make it reality.Construction of The LOVE OF CHRIST GENERATION CHURCH worldwide, Victoria Island began in 2016. The church is also domiciled in Osun state and the UK.
Signed
Love of Christ Generation Church.
—————————————————————————————————————————————
Your help to our media platform will support the delivery of the independent journalism and broadcast the world needs. Support us by making any contribution. Your donation and support allows us to be completely focus, deeply investigative and independent. It also affords us the opportunity to produce more programmes online which is a platform universally utilised.
Thank you.
Please click link to make – DONATION