How we are able to embark on massive infrastructure devt in Oyo – Makinde
Oyo State Governor, 'Seyi Makinde, has explained that the deployment of the Alternate Project Funding Approach (APFA) to fund key road  and infrastructural projects is the secret behind the massive concluded and ongoing projects embarked upon by his government.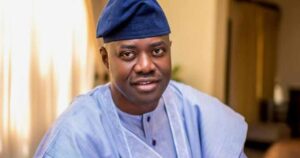 The governor, who was speaking while flagging off the 34.8 kilometres Oyo-Iseyin federal road, maintained that the state's remarkable achievements in terms of infrastructure building are due to its prudent management of resources.
A statement by the Chief Press  Secretary to the governor, Mr. Taiwo Adisa,  further quoted Makinde as saying that his administration has embarked on projects regarded as unthinkable despite the paucity of funds at the Federal and state levels.
The statement maintained that APFA has made it possible for the Makinde government to reduce infrastructure deficit in the state at a period that most states of the federation are going through financial difficulties.
The statement further quoted Makinde as saying that anyone who is confused about how the government is able to raise its Internally Generated Revenues and also fund the myriad of road projects it is embarking upon should not speculate unnecessarily or go to town with lies.
The governor declared that allegations of the state government taking excessive loans to fund projects are baseless, noting that no contractor under the APFA will be owed a kobo at the end of his current tenure.
He said: "We are executing this project using the Alternate Project Funding Approach (APFA).
"Let me take a few minutes to talk about our approach to executing projects in Oyo State. Some people are still confused as to how we are still flagging off projects when some states are finding it difficult to pay salaries. They do not understand how we are raising Oyo State's Internally Generated Revenue (IGR), building our economy and engineering a modern Oyo State. And so, what do they do? They go to town with stories.
"They say things like Seyi Makinde is taking on hidden debts. He is going to turn our children into slaves. The debt he is leaving, we don't know how many years it will take for us to pay it. But all these are lies, fake news and disinformation. "Our secret to carrying on these projects is the Alternate Project Funding Approach (APFA). And I can say it's an open secret, because from when we started using it, we have always been open and transparent about it
"With APFA, the contractor funds the project, and we pay back over an agreed period of time.
"And let me make this clear: you have my word that not one Naira will be left unpaid to any contractor under APFA at the end of our current tenure."For example, for this project, which was awarded in June this year, the repayment period is seventeen (17) months. This means that the project will be completed before all the repayments are made. However, the last repayment will be made by December 2022."
The governor equally reiterated his administration's commitment to delivering quality road networks in line with its promise to build infrastructure that target the economy as a way of expanding the state's economy.
"Do not allow anyone to confuse you—road construction is a big part of our engineering a modern Oyo State. The building of roads forms the foundation of the development of all other sectors of the four pillars of our governance as clearly outlined in our Roadmap to Accelerated Development in Oyo State, 2019-2023.
"You need good roads to drive to healthcare centres. "Without good roads, our children cannot go to school. How will our farmers get to the markets if the roads are bad? And no matter how many vehicles we give to security agencies, how will they be able to get to people in trouble when the roads are bad?
"So, we will continue to build a viable road network for our dear state. This is the path to sustainable development," he added.
Signed
Taiwo Adisa
Chief Press Secretary to Governor 'Seyi Makinde
December 19, 2021.
—————————————————————————————————————————————
Your help to our media platform will support the delivery of the independent journalism and broadcast the world needs. Support us by making any contribution. Your donation and support allows us to be completely focus, deeply investigative and independent. It also affords us the opportunity to produce more programmes online which is a platform universally utilised.
Thank you.
Please click link to make – DONATION