The Chairman, Rivers State Council of Traditional Rulers, His Majesty, King Dandeson Douglas Jaja of Opobo Kingdom has announced the programme of activities for the celebration of the 150th anniversary of Opobo.
At an international press conference on Thursday in his palace, the Amanyanabo and Natural Ruler of Opobo Kingdom said the ancient town was birthed December 25, 1870.
He said, "the celebration will start on the 24th of December, 2020 with the ceremonial hoisting of the King Jaja flag by the amanyanabo of Opobo in the palace ground.
"Subsequently, all the war canoe houses shall hoist their own flags in their compounds.
"This will be followed by ceremonial lowering of King Jaja's war drums which will be beaten in remembrance of the exploits of our ancestors.
"At 7pm, the Special Christmas tree will be lit by the King, followed by Christmas carol by selected choirs in the kingdom.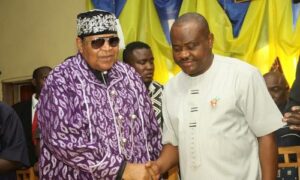 "At 12 midnight, the King Jaja big bell will be tolled to herald the 150 years of Opobo Kingdom's existence; 15 canon shots will be fired along with the bell.
"It is however pertinent to note that the 28th of December is the grand finale of the ceremony.
"We shall have civic reception that day. We shall re-enact the first landing of King Jaja and his chiefs and people on the shores of their new kingdom.
"A flotilla of pigs and war canoes will trace the route taken by King Jaja and his chiefs from Kalaibiama Opobo through Imo river to Opobo river and then land in Opobo town.
"On that same day, we expect our amiable Governor of Rivers State, Nyesom Wike to watch the regatta and be part of the civic reception in King Jaja's palace ground."
King Dandeson Jaja also commended neighbouring tribes for the peace they have been maintaining with Opobo, adding that misunderstandings had always been amicably resolved.
—————————————————————————————————————————————
Your help to our media platform will support the delivery of the independent journalism and broadcast the world needs. Support us by making any contribution. Your donation and support allows us to be completely focus, deeply investigative and independent. It also affords us the opportunity to produce more programmes online which is a platform universally utilised.
Thank you.
Please click link to make – DONATION