……………..
SA DIASPORA: I'M HUMBLED TO RECEIVE YET ANOTHER PRESTIGIOUS AWARD!
In pomp of flaming colors and ostentatious displays, the icons of the journalism world, congregated on the 18th of November 2020 for the 2nd Edition of the NUJ Legacy Award (Imo State Council).
The award in a blue mood took place in the South East state of Imo. This esition recognised one of the youngest recipients in the person of Hon. Cllr. Celia Osakwe-Hibbert. The Special Adviser on Diaspora Affairs to the Imo State Governor.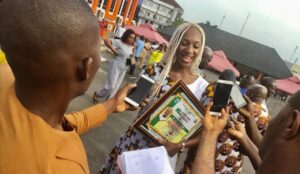 She received an award of recognition for her immense contribution and excellence in such a short space of time coming from the Diaspora to support the needs of those in the Diaspora engaging the State's development.
The SA DIASPORA, spoke to our press, firstly thanking the NUJ body for judging her worthy of such recognition; "I'm in deed humbled with the avalanche of Awards coming my way since I assumed my role as SA Diaspora, this is exactly what happened to me in the United Kingdom, when I got elected as a Ward Councillor. It's now clear to me that hard work defies boundaries, cultures and prejudices; hard work also does not go unnoticed. So all I have to do is to continue to work hard" she said. A few other recipients of today's Award also reacted with utmost excitement. Groans of accomplishment and genuine sense of pride beamed across the faces of the Awardees.
It is worth mentioning that, Sen. Hope Uzodimma the Governor of Imo State was a recipient of NUJ Award 7 years ago. The Imo State Governor, was ably represented today by his Commissioner for Information, Hon. Declan Emelumba, who reminded attendees that Imo Governor is interested in the welfare of Journalists in Imo State hence the Governor, prioritized the reinstatement of Statesman Newspaper as soon as He took office. He also stated that the Governor will continue to encourage fair, objective and transparent reportage. Journalism, he said, is a reputable career that must be respected.
The NUJ Award comes once in every 6-7 years so anyone aiming to be a recipient of this prestigious Award has a long time to wait. Nevertheless good things they say does not come easy!
—————————————————————————————————————————————
Your help to our media platform will support the delivery of the independent journalism and broadcast the world needs. Support us by making any contribution. Your donation and support allows us to be completely focus, deeply investigative and independent. It also affords us the opportunity to produce more programmes online which is a platform universally utilised.
Thank you.
Please click link to make – DONATION